Outdoor Deep Seating Furniture
Bring the cozy comforts of indoor furniture outside with POLYWOOD® deep seating patio furniture pieces and sets. Designed with durable HDPE lumber and weather-resistant cushions, our linger-worthy lounge furniture lets you live your best life outside.

Outdoor Deep Seating Furniture
Bring the cozy comforts of indoor furniture outside with POLYWOOD® deep seating patio furniture pieces and sets. Designed with durable HDPE lumber and weather-resistant cushions, our linger-worthy lounge furniture lets you live your best life outside.
Lakeside

2 Deep Seating Chairs + Deep Seating Loveseat + Deep Seating Sofa + Rectangular Coffee Table

+7 POLYWOOD® colors

●

42 fabric colors

Once you've found the collection that best fits your style, it's time to talk color. From light and bright neutrals to rich and dramatic hues, our lumber and cushion color choices all mix and match with ease. An earthy tone-on-tone palette creates a dreamy atmosphere, one inspired by elements already found in nature. Traditional wood tones and timeless patterns feel elevated and forever in style. Unexpected hues and bold contrast reminds us that the only rule for designing your outdoor space is that you have fun while doing it.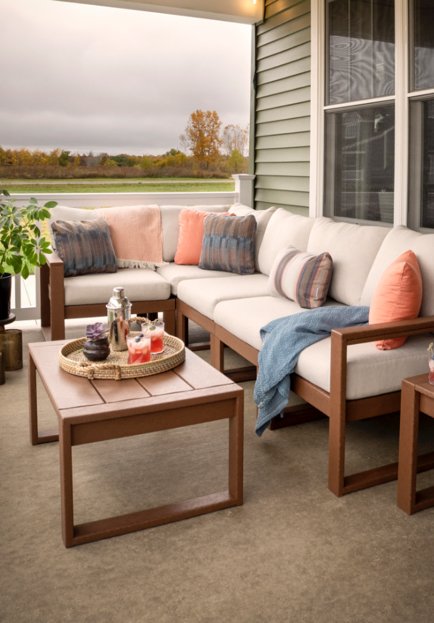 In a range of inspired designs and fade-resistant finishes, our deep seating collections extend your personal style to your outdoor room. We make these sectionals, sofas, chairs, and chaise lounges with extra-deep seats, plush cushions, and plenty of space to stretch out. So go ahead and sink in, kick back, and gather together.
We believe that outdoor furniture is an extension of your home—it's meant to be loved and lived with for years. POLYWOOD's innovative, sustainably made lumber offers durability and longevity that wood and other plastics simply cannot, and our quick-dry cushions' performance fabric resists rain, salt, sun, mold, and mildew. All of our deep seating collections and cushions are proudly made in the USA (with free delivery).
"Super comfortable and easy to get up from! These chairs are a perfect height for all ages. Extremely comfortable and well crafted...We love that these swivel so we can conversate and enjoy the lake views. Packaging and delivery were excellent!"
Prescott Deep Seating Swivel Chair - July 2020
Deep Seating Patio Furniture Features

Rain, wind, and sleet shouldn't get in the way of enjoying your outdoor furniture. Unlike wood, POLYWOOD products are innovatively engineered to withstand all four seasons without splintering, rotting, cracking, or chipping.
From hot summer sun and rain storms to messy spills and stains, our heavy-duty lumber can handle it all. POLYWOOD all-weather outdoor furniture can be left out year-round, no covers required, for less work and more free time.
Sustainability has always been our second nature. To protect and preserve natural resources for future generations, we make our durable patio furniture from reusable and infinitely recyclable high-density polyethylene plastic.
What is deep seating furniture?
Deep seating furniture, also sometimes referred to as lounge furniture, is furniture designed with deeper seats (relative to the dimensions from back to front) that make outdoor living comfortable. This extra depth allows you to sit with your thighs fully rested on the seat.
Deep seating furniture is great for taller individuals or those who have longer legs—and for anyone who enjoys taking naps outside or getting cozy by tucking their legs beneath them when they sit. Typically, deep seating frames sit lower to the ground to compensate for lofty, thick cushions on the seat and back.
Frequently Asked Questions

Is it possible to order different color combinations for deep seating sets than what's shown on POLYWOOD's website?
You can mix and match to your heart's desire using the different color combinations we offer. Our deep seating frames come in a wide variety of hues, and our cushions are available in a plethora of patterns and colors. To create a custom order, please submit a request to our Customer Experience Team—they'll be happy to help.
Can deep seating cushions be removed from the frames?
Yes, both our seat and back cushions are removable. We designed them this way for easy storage and so you can flip them to even out wear and maintain their beauty for longer.
Can POLYWOOD deep seating pieces be used without cushions?
Our deep seating is designed to be used with cushions, which are included. All of our cushions are made with high-performance fabric, so they're just as low-maintenance as the furniture itself.
What is the best tile for an outdoor patio?
The best tile for an outdoor patio will depend on your style and budget. Your local weather climate and how the space will be used should also be considered. Natural granite, porcelain, hardwood, and synthetic tiles all make durable and attractive outdoor tile options.

Where To Enjoy Your Outdoor Deep Seating Furniture

Patios outfitted with high-quality furniture sets let us connect to nature without giving up indoor comforts. Grab your snacks, sunglasses, and a book and take a much-deserved break with the Vineyard 4-Piece Deep Seating Set.
With its roomy design options and lofty cushions, deep seating lounge furniture turns your poolside space into a five-star resort. If you have more square footage to work with, the EDGE 6-Piece Modular Deep Seating Set can be your go-to spot for sunbathing, reading, or conversation and cocktails with friends.
One way to make a great first impression? Cozy lounge furniture that greets guests when they arrive. Family, friends, and neighbors can sink back into the soft cushions of the Braxton 3-Piece Deep Seating Rocker Set while enjoying a warm cup of coffee and the cool breeze.
Comparing Deep Seating Styles
Need help choosing the right deep seating for your outdoor living space? Check out our detailed buying guide to compare our wide range of styles.
FIND YOUR PERFECT FIT