Serve up post-swim snacks or plan an impromptu date night—our bistro sets are the ultimate in casual entertaining. The tables provide plenty of room for light bites while comfortable seating keeps the conversation flowing.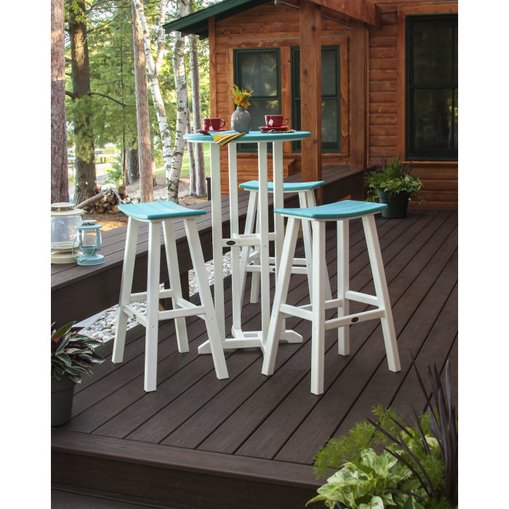 Our low-maintenance outdoor bistro sets are designed to let you enjoy worry-free outdoor living. With all that stress gone, you can sit back and enjoy turning moments into memories with someone special.
Another reason to love your bistro set is that it's built using genuine POLYWOOD lumber. This durable and sustainable material is made using landfill-bound and ocean-bound high-density polyethylene (HDPE) plastics — it's a resourceful way to give discarded plastic a second chance and be turned into something beautiful and long-lasting. With every piece of our furniture that you add to your outdoor space, you're helping to reduce plastic pollution and keep our planet healthy.
Beautiful addition to our outdoor patio.
"As with all of my POLYWOOD, we love this bistro-style table. It is sturdy and adds style to our pool deck and lanai."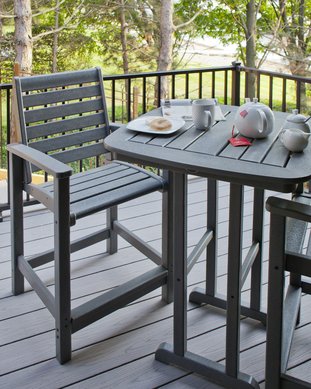 Every bistro table and chair set we offer is available in a variety of colors. Style a relaxing balcony scene with a round table and coordinating chairs in calming Sand, or add fresh and tropical vibes by the poolside with a Tangerine Adirondack bistro set. Don't forget to add pops of color with our outdoor cushions.

Sustainability has always been our second nature. To protect and preserve natural resources for future generations, we make our durable patio furniture from sustainable materials, including landfill- and ocean-bound plastics.
Rain, wind, and sleet shouldn't get in the way of enjoying your outdoor furniture. Unlike wood, POLYWOOD products are innovatively engineered to withstand all four seasons without splintering, rotting, cracking, or chipping.
Industry-Leading Warranty
We understand that relaxation is about having peace of mind. That's why POLYWOOD outdoor furniture is built to last and backed by a 20-year warranty. Have any questions? Our Customer Experience Team is always here to help.
The Beginning of Bistro Furniture
Bistro sets first appeared in France in the late 1800s. Intimate cafes and restaurants didn't have much room to seat their patrons, so they chose small tables that could fit two or three chairs around them. The furniture was also lightweight and often foldable, so cafe owners could quickly put it away and avoid paying rent on a fixed terrace.  
America saw its first bistro sets when Europeans settled in New York after the Civil War. This practical outdoor furniture now flourishes throughout the world in restaurants, coffee shops, and private residences.

What's the average height of a bistro table?
Bistro dining tables measure between 40 to 42 inches tall, making them the same height as bar tables.
What size umbrella do I need for a bistro table?
A good rule to follow when choosing an outdoor umbrella is to select one that extends at least two feet beyond the edge of your outdoor dining table on all sides. For example, if you have a round 48-inch dining table, your umbrella should be eight feet in diameter or larger. This will provide enough shade for the area you want to cover.
What size tablecloth should I get for a bistro table?
To find the right size tablecloth for your bistro table, measure the length and width of your tabletop and add the desired drop (how much fabric you want to hang over the sides) twice for all sides in inches. For example, if you have a round 48-inch table and want eight inches of drop, add 16 inches to the diameter, which means you'll need a round 64-inch tablecloth.

Types of Patio Dining Furniture

Style outdoor kitchens and bars with all-weather bar and counter sets for convenient seating in any season.

Guide to Planning Your Dream Outdoor Space
Creating the outdoor area of your dreams is easier than you think. Get started with our comprehensive planning guide.
View Free Planning Guide