Explore POLYWOOD With the Pros
Michel Smith Boyd and Anthony Elle, celebrated designers and HGTV stars, go behind the scenes at POLYWOOD headquarters.

Like POLYWOOD, Michel and Anthony are in the business of high-quality, sustainable design. When we asked the duo to visit our campus, along with other renowned designers and media, their RSVP was an enthusiastic yes.

Step inside the exclusive tour and discover why designers and press love POLYWOOD.
The day starts with light bites in our showroom.
POLYWOOD CEO Doug Rassi greets the group.
Our PW Designer Series 120" A-Frame Dining Table is a beautiful canvas for gatherings of all kinds.
Interior designer Kelly Finley talks sustainable design with our team.
Our founders created the first Adirondack chair from reusable plastics in 1990, and we continue to explore new ways to protect the outdoor space we all share.
"This is not just about outdoor furniture … This is about our planet." - Michel Smith Boyd
Class is in session on how we perform our extensive prototype testing.
Delivering joy through beautiful, sustainable design.
"Coming from a fashion background, I've always had this connection to repurposing. [POLYWOOD] has proven that they're at the forefront of that movement." - Anthony Elle
Michel and Anthony get a sneak peek at what's coming up for POLYWOOD.
"It's responsible design, while at the same time making something beautiful … It looks good, but it also feels good in your soul. It's beautiful."
From left to right: Anthony Elle, Michel Smith Boyd, Christopher Todd, Taryn Whiteaker, Courtney Thompson, Melanie Fincher, Courtney Porter, Jessica Robb, Kelly Finley, and Ginger Curtis.
Our infinitely recyclable lumber is made from reusable plastics in a circular, 99% waste-free process. Doing so allows us to reduce our environmental impact and protect our planet's natural resources.
"There is nothing that doesn't get used." - Anthony Elle
Michel and Anthony capture key steps in our recycling process.
All these plastic scraps will be recycled into new lumber.
"There's something for everyone, but I think the biggest luxury [POLYWOOD] could possibly deliver is a clean planet."
- Michel Smith Boyd
The group is guided through our extrusion department for an up-close look at the lumber.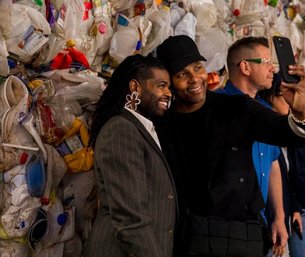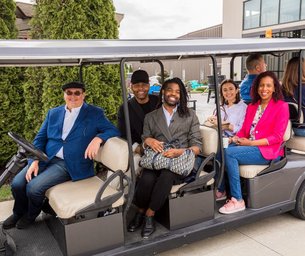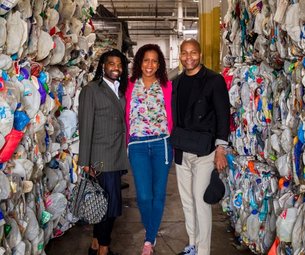 Teamwork Makes the Dream Work
"I'm mind-blown by POLYWOOD."
- Michel Smith Boyd
More Projects
Taryn Whiteaker's Outdoor Style Story
One designer, two homes, endless inspiration. Taryn Whiteaker brings her distinct style visions to life with POLYWOOD furniture.
Traci Connell's Waterfront Retreat
Come on out—and see how interior designer Traci Connell transformed the alfresco area of her Texas home into a resort-worthy retreat.
Anthony Carrino's Stone House
We teamed up with Anthony Carrino, HGTV home renovation star and design pro, to bring modern vibes to his rural home in the Catskill Mountains.