Spark joy, start new traditions, and keep patio season going with our fire pit table sets. By pairing durable, comfortable seating with the coziness of flickering flames, these curated arrangements are always good to glow.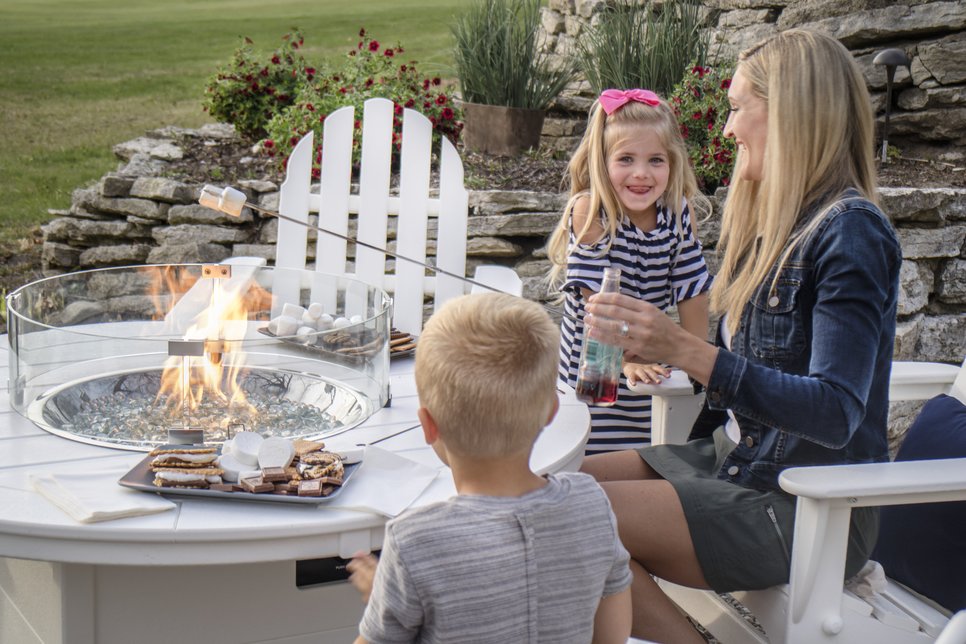 The feeling of a brisk spring morning or balmy summer evening. The sound of little ones playing in the backyard. Peaceful nights under a moonlit sky. Your outdoor space is your happy place—somewhere you go to connect to nature and your loved ones. That's why everything we do intends to help you get outside and bring everyone together, year after year.
Unlike natural wood, POLYWOOD's durable materials never need to be sanded, painted, stained, or otherwise modified. Our lumber can withstand harsh climates, taking rain, snow, wind, and sun in stride. Our long-lasting designs keep furniture out of landfills and ultimately sustain our zero-waste mindset, leaving our planet better for future generations to enjoy. All of our outdoor furniture is proudly made in the USA, and we offer free shipping on every purchase.
"This is really a nice set, and we've really enjoyed it during these cooler months. A little assembly is required but not difficult at all. The stainless steel hardware in the pit does not corrode and looks as good as the day we got it."
Nautical Curveback Adirondack 5-Piece Conversation Set with Fire Table, February 2022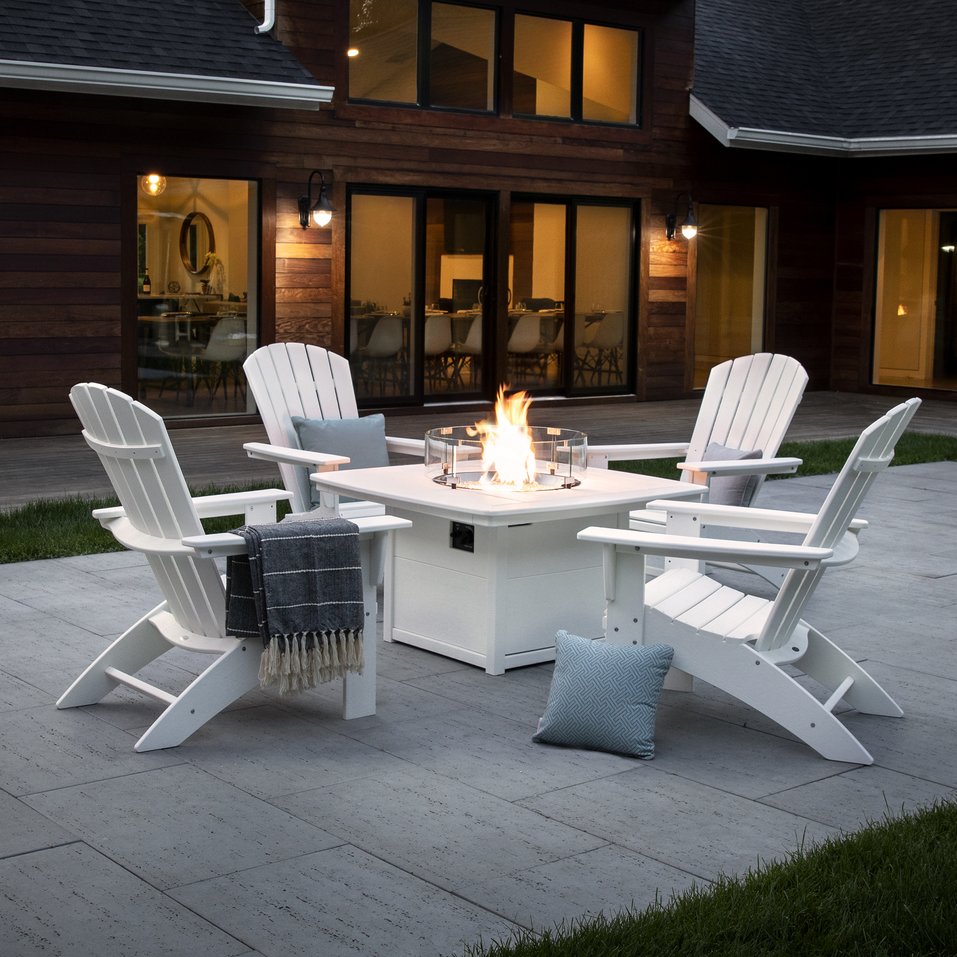 Fire Pit Table Sets Colors

From easygoing neutrals to bold hues, our lumber colors all mix and match with ease to let your personal style shine. With our innovative Color-Stay Technology, the vivid pigments, UV inhibitors, and protectants are fully integrated into the lumber to keep the hues pristine even after years of sun, rain, and use.


We're in the business of R&R, and our products are carefully considered to create a linger-worthy experience. From seating that reclines at the perfect pitch to pillowy-soft cushions, everything is done with comfort in mind.
Easy does it. Our patio furniture will always look as good as new with very little effort. It doesn't need to be brought inside during inclement weather and cleans quickly and easily with soapy water and a soft-bristle brush.
From hot summer sun and rain storms to messy spills and stains, our heavy-duty lumber can handle it all. POLYWOOD all-weather furniture can be left out year-round for less work and more free time to enjoy your outdoor space.
A Brief Explanation of BTUs
Fire pit tables come in a range of heating options that are measured in British thermal units (BTUs). One BTU is the amount of heat required to increase the temperature of one pound of water by one degree Fahrenheit. They typically top out around 60,000 BTUs, while some models generate around 30,000 BTUs. The higher the BTU, the hotter the fire. POLYWOOD fire tables are rated at 55,000 BTUs per hour.

Will the fire pit give off enough heat for my patio?
While all fire pits generate heat, they do so to varying degrees. The square footage of your patio, size of your burner, fuel type, and the BTU rating will all factor into the amount of warmth your fire pit gives off. Additionally, wind and ambient temperature can affect the level of heat. Generally speaking, 50,000 BTUs can be felt from 8 to 10 feet away.
Can fire pit tables be used in humid, rainy areas?
Yes, they can be used in humid areas that experience a lot of rainfall. However, they should be covered once they've cooled to protect the burners from moisture. This simple step will allow your family to get much more mileage out of your piece and avoid any potential damage to the inner mechanisms.
Will a fire pit damage my patio's ceiling?
POLYWOOD fire pit tables should not damage your patio's ceiling*, but you should maintain several feet of clearance between the top of the fire feature and your ceiling, overhead fan, or light fixture. A wood-burning fire pit should never be used on covered patios.
*Always research your local fire and building codes for any regulations or rules against installation and placement.
How can I direct heat from a fire pit table?
To direct your fire pit table's heat outward instead of upward, consider investing in a heat reflector (sometimes called a heat deflector). This helpful device is affixed above the flames on a fire pit table, blocking the natural upward movement of heat and forcing it out to the sides. While we don't carry heat reflectors—and therefore cannot speak directly to their usage or safety—other companies do manufacture them.

Complete Your Conversation Area