Rethink Discounts & Sales
At POLYWOOD, we pride ourselves on the quality of our product and its ability to allow you and your family to enjoy more time relaxing and less time maintaining. Normally, we do not offer promotions or sales on our furniture. We offer sustainable, durable, and stylish outdoor furniture that can be relied upon by families and passed down to serve future generations.
Sign Up For Our Mailing List
Simply submit your email address in the form below and we'll make sure you're always the first to know.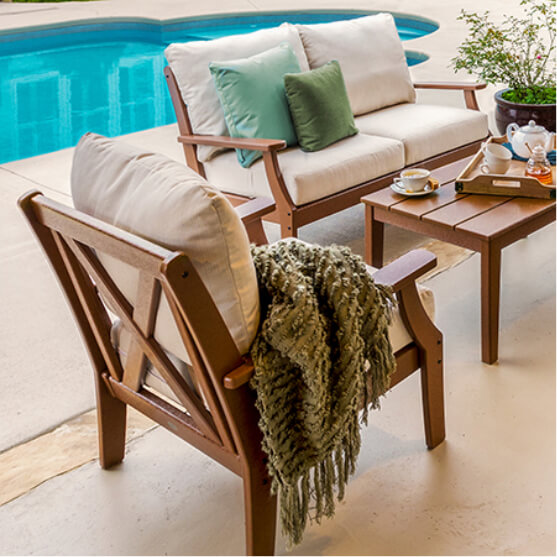 Why Invest in POLYWOOD Furniture?
Genuine Polywood
POLYWOOD is a US-based company that has been creating beautiful and sustainable outdoor furniture for over 30 years using ocean-bound and landfill-bound plastics. Our furniture is built to withstand harsh weather conditions and environmental stressors. We proudly stand behind our products, and we provide a 20-year residential warranty to prove it.
New POLYWOOD Products
Our engineers are constantly pushing the boundaries of POLYWOOD lumber, allowing our designers to keep innovating and creating new furniture designs never before achieved with our material. When you join our newsletter, you'll be the first to know about any new product releases.
Content Curated For You
Throughout the year, our newsletter subscribers also get notified whenever we publish new content on the POLYWOOD blog. Our blog contains a variety of posts that offer helpful design tips, ideas for entertaining, and so much more!
Frequently Asked Questions
Does POLYWOOD Offer Promotion Codes or Coupons?
We do not offer any promotions or coupon codes at this time. We share news of any upcoming promotions, coupon codes, and sales in our newsletter. You can subscribe for free to stay up-to-date on everything that's happening at POLYWOOD!
Is POLYWOOD worth the investment?
Yes! We use high-quality materials to construct our furniture and we rigorously test each piece to ensure our products can handle any outdoor environment year after year. We also offer a 20-year residential warranty with our furniture so you can rest assured that your purchase of POLYWOOD furniture is money well spent.
Does POLYWOOD have sales?
From time to time we do have sales on our furniture. If you subscribe to our newsletter you can learn about all upcoming sales that we'll be having.
Is POLYWOOD Worth the Investment?
Worth the money and the wait! Absolutely the best stools you can buy! Customer service was beyond amazing and helpful.
My yard has a resort feel to it...around the pool they look like a million bucks. I'm glad I made the investment.
You just can't go wrong with Polywood! We have several pieces now and keep expanding...It's a great investment.
Well worth the money, stands up to the elements, and is easy to clean.
This table will probably outlast me. Well worth the money. I'm also happy it's made in the USA and from recycled products. I have absolutely no complaints.