Patio Dining Furniture
POLYWOOD® patio furniture is built to live outdoors. Whether you're looking to fill a large or small space or have traditional or contemporary tastes, we're confident you'll find something among our wide selection of outdoor patio furniture.
Why Polywood?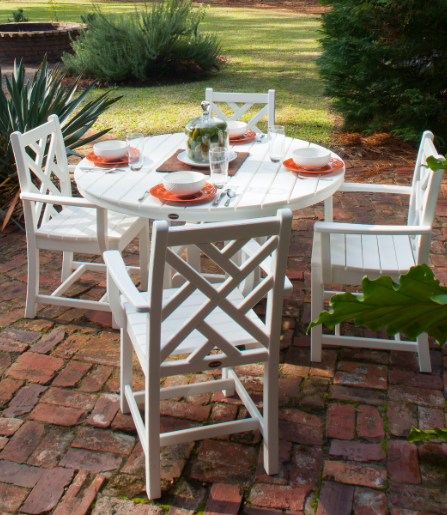 For over 30 years, POLYWOOD has been creating outdoor patio furniture that graces the homes of happy customers all across the country and beyond its borders. We've helped thousands of people enhance the look and feel of their outdoor spaces, and every day our best patio furniture continues to prove that indoor comforts can be enjoyed in the great outdoors.
Our all-weather patio furniture stands the test of time thanks to the genuine POLYWOOD lumber and other durable materials we use to make our patio furniture, and the care we take in the design and construction of each piece. We use recycled ocean-bound and landfill-bound high-density polyethylene (HDPE) plastic to create our lumber making our modern patio furniture resistant to harsh weather and environmental conditions, all while simultaneously keeping plastic from polluting our beautiful planet.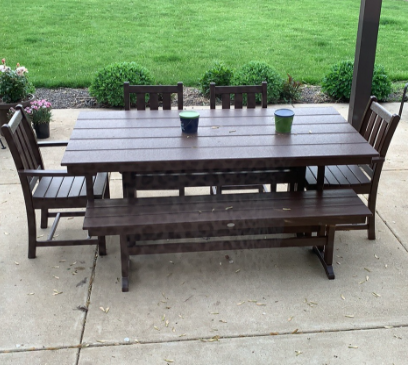 "Arrived without issue and is sturdy and well made. Took about an hour to put together easily. Seems like it should last a long time. Seating is comfortable for a family of five with a couple spots left over."
Outdoor Patio Furniture Features

Weather Resistance
You can trust POLYWOOD outdoor patio furniture to handle blizzards, hot sun, heavy winds, salt spray, humidity, desert heat, and other extreme weather and environmental conditions.

Low Maintenance
We designed our patio furniture to be low-maintenance so you can spend more time relaxing on it instead of maintaining it.

Sustainability
We're cleaning our earth by removing discarded HDPE plastic containers from landfills and waterways and recycling them into our genuine POLYWOOD lumber.

20-Year Warranty
Genuine POLYWOOD lumber is the primary material we use in the construction of our outdoor patio furniture, and we proudly back it with a 20-year residential warranty.
Types of Patio Furniture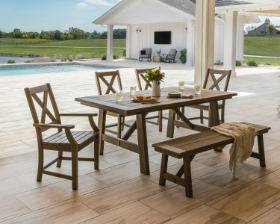 Dining Patio Furniture
POLYWOOD dining patio furniture is stylish and comfortable, which allows you to entertain with ease. We have a variety of options available that can meet your needs from individual bar-height patio furniture to large patio dining sets.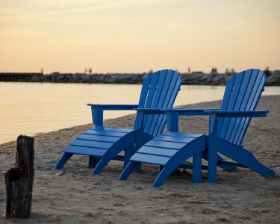 Lounge Patio Furniture
Our comfortable patio lounge furniture looks as good as it feels and can fit in any outdoor space from sectional patio furniture on a roomy back deck to pool patio furniture where you can take in the sun while lounging by the waterside.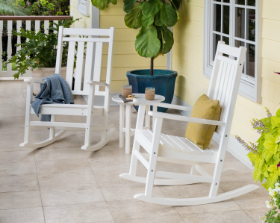 Small Patio Furniture
POLYWOOD small space patio furniture can enhance any intimate outdoor setting. Our small patio furniture sets fit perfectly in cozy corners on patios, balcony patio furniture can take your comfort to new heights, and a small patio furniture piece could be the accent you need to complement the decor of the private reading area on your veranda.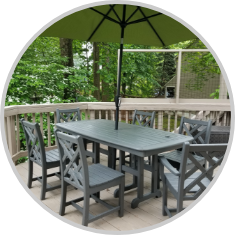 "I love this set. It was packaged well and delivered quickly. It was easy enough for me to build it myself, but I did need one other person to get the table in place. Very comfortable to sit in and great to the touch. No splinters and no staining!
Outdoor Patio Sets
Top Patio Furniture Materials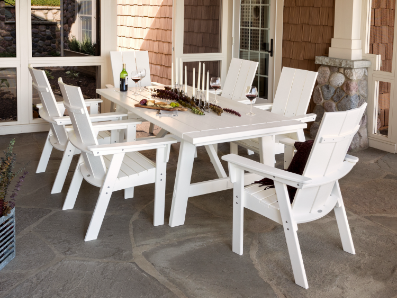 Genuine POLYWOOD Lumber (HDPE)
Dreaming of poolside relaxation? Make your dream a reality by placing a few of our Adirondacks on the patio or deck that surrounds your pool. The Yacht Club Adirondack Chair would look splendid sitting by your pool.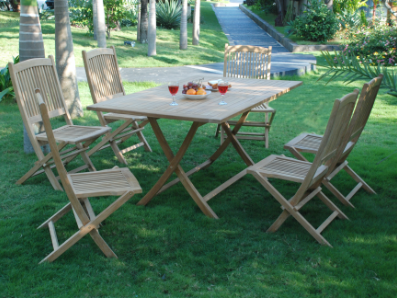 Teak
Teak is the preferred choice for wood patio furniture. It's durable, resistant to rot and pests, and it's quite attractive with its natural golden-brown hue. However, teak patio furniture is very expensive, and in order to maintain its beautiful color, teak must be sealed and oiled on a regular basis.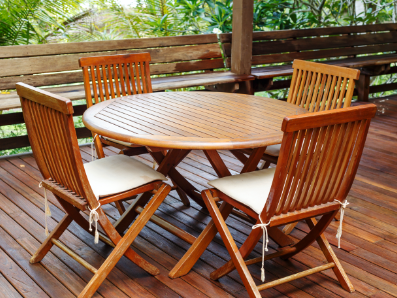 Wood
Wood patio furniture can be made from a variety of wood species — cypress, cedar, larch, acacia, shorea, the aforementioned teak, and the list goes on. Wooden furniture stays cool in the sun, it's strong, and it's very pleasing to the eye. But, wood furniture can be very pricey; not only in regards to the initial purchase price but also in the cost to maintain it as wood needs regular maintenance to protect it against outdoor elements.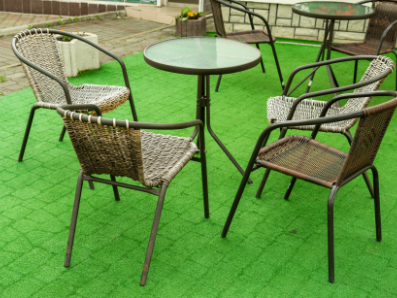 Wicker
Wicker is not actually a material, it's a weaving technique, and the common materials used to create wicker furniture include cane, bamboo, willow, and synthetic fibers. Wicker patio furniture is lightweight, durable, and attractive, but good quality wicker pieces can be pricey and require regular maintenance (otherwise it's possible to get poked by a wayward strand that became loose due to continued wear).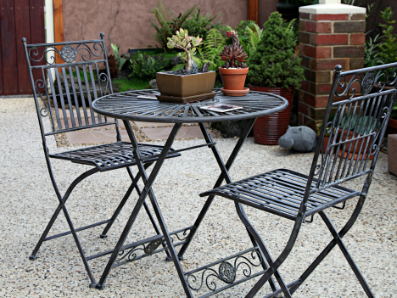 Wrought Iron
Wrought iron patio furniture is a great choice if you're looking to add elegance and a bit of whimsy to your outdoor space. It's strong and heavy so inclement weather won't impact its integrity, but the considerable weight makes wrought iron furniture difficult to move around. Additionally, wrought iron furniture is not often comfortable unless you tie cushions to it, and wrought iron needs regular maintenance otherwise it starts to rust.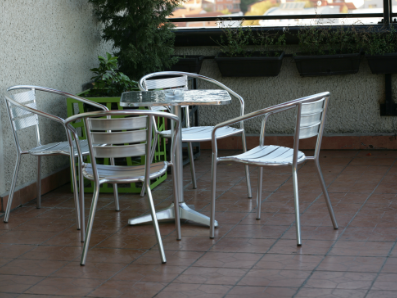 Aluminum
Aluminum patio furniture is inexpensive, low-maintenance, and lightweight. However, aluminum furniture isn't the most comfortable so you'll need to invest in seat cushions, and aluminum furniture retains heat so if it's exposed to the sun for long periods of time it can get extremely hot. Also, strong gusts of wind can blow aluminum furniture off of your porch, patio, or deck so keep these things in mind if you live in a hot and/or windy climate.
Patio Furniture
Is POLYWOOD patio furniture made in the USA?
Yes! We build our durable patio furniture at our two facilities in Syracuse, Indiana and Roxboro, North Carolina
Can POLYWOOD patio furniture be left outside during the winter months?
Our all-weather patio furniture is built to live outdoors. You can leave our patio furniture sets outside all year long and not have to worry about it being damaged by harsh weather or environmental stressors.
Do the colors of POLYWOOD patio furniture last?
We blend light-stable pigments, stabilizers, and UV inhibitors throughout our genuine POLYWOOD lumber, allowing the color to remain bright and vibrant year after year.
Does POLYWOOD patio furniture need to be maintained regularly?
No, our lawn furniture is made from durable HDPE plastic, making it very low-maintenance. Our furniture never needs to be painted, stained, or even waterproofed. All you'll need to do is clean it once in a while with soap, water, and a soft-bristle brush.
Does POLYWOOD patio furniture get hot?
The darker lumber colors will absorb more heat than the lighter colors will, but our general rule of thumb is that if it's nice enough to sit outside and enjoy the day, our patio furniture will be fine to use.
Furniture Reviews
We love a good review! Check out what other customers are saying below:


Perfect
"We love how solid this furniture is while being extremely comfortable. They added the perfect touch to our urban hideaway. "