Outdoor Patio Cushions
Available in a variety of colors and patterns, our quick-drying cushions bring style and a splash of color to every season. We source our UV-resistant performance fabrics from the finest textile mills and sew each cushion by hand for a finishing touch that's big on both comfort and quality.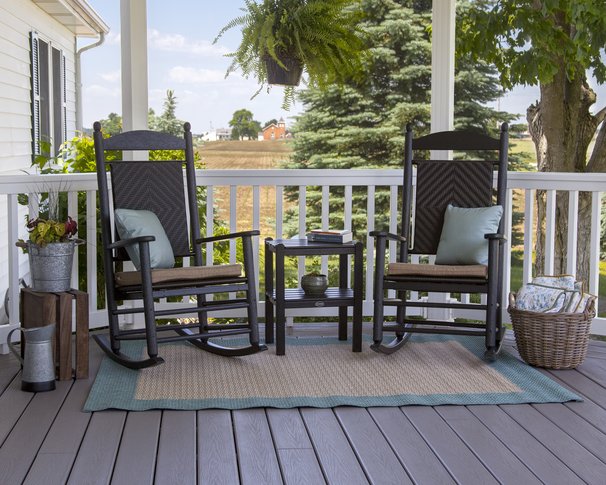 It doesn't get much better than spending time in your outdoor space. The sun peeking through the trees, friends laughing around the dinner table, a chorus of birds chirping in the distance—those are the moments that spark joy. That's why everything we do and design is intended to encourage more of them.
We believe outdoor living rooms should be as beautiful, comfortable, and intentional as your indoor spaces. Genuine POLYWOOD lumber offers unrivaled durability, and our patio cushions are specifically tailored to resist rain, salt, sun, and mildew. All of our all-weather products are proudly made in the USA. (And did we mention everything ships for free?)
"Perfect color. Shaped correctly and firm enough to remain comfortable for a long period of time. Excellent product."
Seat Cushion - 20"D x 20"W x 2.5"H, October 2021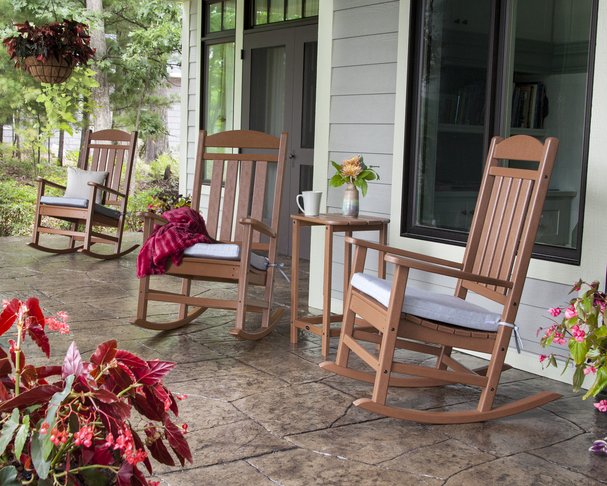 Seasonal weather shouldn't get in the way of enjoying your outdoor furniture. Resistant to moisture and fading, POLYWOOD cushions use materials that withstand all four seasons, taking rain, snow, and bright UV rays in stride.
From hot summer sun and rain storms to messy spills and stains, our heavy-duty materials can handle it all. POLYWOOD all-weather patio furniture can be left out year-round, no covers required, for less work and more free time.
We're in the business of R&R, and our products are carefully considered to create a linger-worthy experience. From seating that reclines at the perfect pitch to pillowy-soft cushions, everything is done with comfort in mind.
What are POLYWOOD cushions made of?
POLYWOOD cushions are made with materials that are inherently resistant to outdoor weather conditions like dew drops, rain, and UV rays. Our deep-seating cushions are filled with a combination of foam pads and a blow-fill polyester fiber; individual seat cushions are filled with polyester fiber only.
Each cushion is expertly tailored in the performance fabric of your choosing. Incredibly durable but soft to the touch, these outdoor fabrics are woven of fibers specifically made for life alfresco.

What is the best way to clean outdoor furniture cushions?
The best way to clean your outdoor chair cushions is to remove stains, mold, and mildew before they set in by using a solution of Borax, mild detergent, and water. First, brush off any loose debris then scrub them down and let the solution soak in. Finish up by rinsing everything with a hose and letting them air dry. High-quality outdoor cushions should be able to handle a good deal of wear and tear. However, a regular cleaning schedule will keep them in great condition for years to come.
READ THE FULL CUSHION CARE GUIDE >
What is the best outdoor cushion material?
When it comes to the inner fill, the best outdoor cushion material is polyurethane foam thanks to its loft and moisture-wicking abilities. The best fabric covering is polypropylene, which offers superior resistance to the elements compared to other fabrics.
Can you leave cushions on outdoor furniture?
As they are designed for outdoor use, you can certainly leave cushions on outdoor furniture. During heavy rainfall, you may opt to store them in an enclosed area. This will ultimately prolong the life of your cushions, and your family will be able to use them immediately whenever the sun comes back out.
What styles of cushions does POLYWOOD carry?
We design our chair cushions to pair with many of our seating styles. Deep seating lounge furniture includes cushions; outdoor bench cushions, chaise lounge cushions, and dining chair cushions are sold separately.


What's the best fabric for outdoor cushions?
When it comes to determining the best fabric for outdoor seat cushions, there are several factors to consider, including your lifestyle, local climate, and where the cushions will live. Solution-dyed acrylic, canvas, and vinyl are popular choices for outdoor fabric, but pet- and kid-friendly polypropylene is arguably the best because of its stain- and weather-resistant properties.
READ THE FULL ARTICLE