Bar and Counter Sets
Browse our generous selection of outdoor bar and counter sets to find the ideal complement to your open-air kitchen or rooftop bar.

Bar and Counter Sets
Browse our generous selection of outdoor bar and counter sets to find the ideal complement to your open-air kitchen or rooftop bar.

We offer a wide range of fade-resistant colors that naturally flow with your style and existing outdoor pieces. Vivid pigments and UV inhibitors are incorporated into the material early in production, meaning that the hues are continuous throughout the lumber. Our innovative Color-Stay Technology keeps the colors pristine, even after years of sun, rain, and use.

"LOVE this set! The quality is superb, so comfortable. You don't even need the cushions, I did purchase them [for] added comfort! Assembly was not hard at all, once you do the first chair the rest are easy. The table is very heavy but super easy to assemble. The set and the cushions are so worth the cost!"
What's the difference between bar-height sets and counter-height sets?

Come warmer weather, your outdoor dining set quickly becomes the place where you go to enjoy coffee, take a work break, or tuck in for nightly dinners. Styles, colors, and sizes abound, but the height of your dining set is also something to take into consideration when outfitting your outdoor dining room.
Aside from standard heights, bar and counter heights are the two most popular styles. Bar height is the tallest option available—like the chairs, stools, and high-top tables at your favorite sports bar or pub. Counter height is slightly shorter, around the same height as kitchen islands or counters.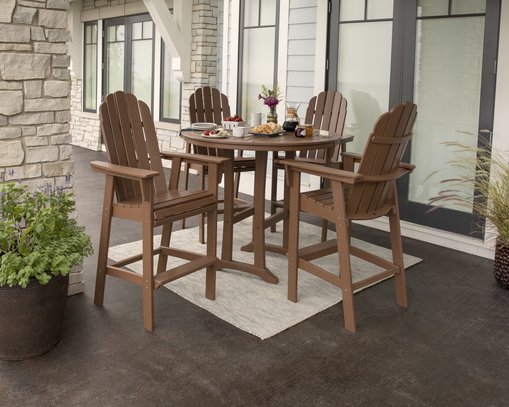 Our bar and counter sets meet the demands of real life, from spills and stains to stormy weather, and come with our promise of lasting durability. Our stylish collections are not only easy on the eyes—they're easy on the environment too. Genuine POLYWOOD lumber is made from reusable plastics. Good for the planet and even better for busy lifestyles, our infinitely recyclable lumber is low maintenance, easy to clean, and weatherproof.
We're here to create beautiful, comfortable outdoor spaces, the places you can go to unplug from screens or busy schedules and reconnect with nature and loved ones. Our high-quality materials and products are carefully considered and expertly engineered to do just that. POLYWOOD patio furniture is proudly made in the USA, and we always offer free shipping.
Bar & Counter Set Features

Rain, wind, and sleet shouldn't get in the way of enjoying your outdoor furniture. Unlike wood, POLYWOOD products are innovatively engineered to withstand all four seasons without splintering, rotting, cracking, or chipping.
Easy does it. Our patio furniture will always look as good as new with very little effort. It doesn't need to be brought inside during inclement weather and cleans quickly and easily with soapy water and a soft-bristle brush.
Industry-Leading Warranty
We understand that relaxation is about having peace of mind. That's why POLYWOOD outdoor furniture is built to last and backed by a 20-year warranty. Have any questions? Our Customer Experience Team is always here to help.
Outdoor Entertaining Essentials

Get set to dine in the sunshine. These supremely comfortable designs are crafted with stain- and spill-resistant materials for easy, breezy entertaining.
Level up your happy hours and game nights with our selection of outdoor bar stools and counter stools, which help keep the conversation flowing and the party going.
From chatting with dinner guests to basking in the glow of sunset, take in all your favorite views with our well-designed, incredibly durable swivel chairs.
Make outdoor dining all the more inviting with our all-weather cushions, which add soft support and extra style to every meal. (Design tip: Switch them out with the seasons or whenever you want a refresh.)
Perfect for a party of two, our curated collection of bistro sets will soon be your new favorite spot to sip coffee at sunrise or enjoy an alfresco date night.
Give your cozy patio or outdoor breakfast nook an upgrade with our five-piece dining sets that are great for families of four or intimate dinner parties.
Casual entertaining in mid-sized spaces calls for our seven-piece dining sets, offering family-friendly styles that comfortably accommodate a group of six.
Definite crowd-pleasers. Designed at a size suited for large families and special celebrations, our nine-piece dining sets sit eight (with elbow room to spare).

What is the difference between bar height and counter height?
Bar-height tables typically measure between 40 and 42 inches tall. Bar chairs and stools have seat heights that range between 28 and 33 inches. Counter-height tables and seating are shorter, with tables measuring between 34 to 36 inches and seat heights ranging from 24 to 27 inches.
How tall is a balcony-height table?
Balcony height is the same as bar height, so balcony-height dining tables are tall and measure between 40 to 42 inches from floor to tabletop.
Can I use POLYWOOD furniture on the shallow ledge of my pool?
Our furniture is not designed with the intent to be used in a pool. While this is a personal choice, we do not recommend putting your pieces directly into pools, as sustained exposure to chlorine can damage the hardware.
Are your bar-height sets UV resistant?
Yes, all of our bar-height sets are resistant to UV rays. We blend UV-inhibited pigment systems and fade-resistant colorants into our lumber to keep your outdoor bar furniture looking as good as new, season after season.

Designing Your Dream Balcony
If you live in an urban area, the size of your outdoor space is likely limited. However, this doesn't mean that your design options should be. With a bit of creativity and careful planning, you can turn your balcony into a functional space that makes a style statement.
The first—and probably most important—step you should take is measuring your layout. These dimensions determine how much room you have to work with and will help you down the road when deciding how to use your space and what furniture will fit.
For more inspiration, take a peek at these balcony design ideas to find out how you can maximize a minimal floor plan.
The Complete Guide to Buying an Outdoor Bar or Counter Set
Searching for the perfect patio bar set? Our comprehensive buying guide can help you find exactly what you need to create an outdoor area made for those easygoing mornings and lively nights.
Bar and Counter Set Buying Guide