Sway the day away with our outdoor gliders, a design that combines the comforts of a rocking chair with the peaceful back-and-forth motion of a porch swing. Our styles and sizes are ideal for any occasion, from moments of serene solitude to blissful weekend mornings spent together.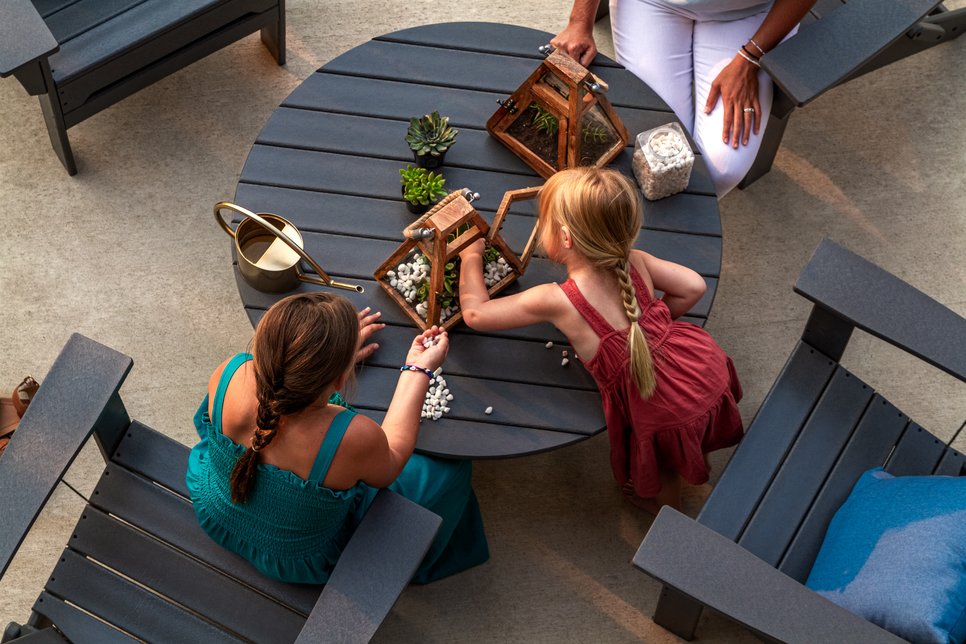 Since 1990, we've been on a mission to make better outdoor furniture. Well, what does that mean? We're glad you asked. Better looks like innovative engineering that focuses on sustainable materials and durable designs. It means protecting the planet for future generations and bringing jobs to our local communities.
Unlike traditional wood or disposable resin designs, your POLYWOOD will never need to be sanded, painted, stained, or otherwise modified. It's built with high-density polyethylene lumber, a durable and reusable plastic that can withstand harsh climates, taking rain, snow, wind, and sun in stride. Using infinitely recyclable plastic sustains our zero-waste mindset and allows us to leave a lighter footprint. All of our furniture is proudly made in the USA, and we offer free shipping on every purchase.
"Easy to put together and very relaxing. We bought two, and they are both used continuously when we're out by the pool."
Traditional Garden 48" Glider, Dec. 2021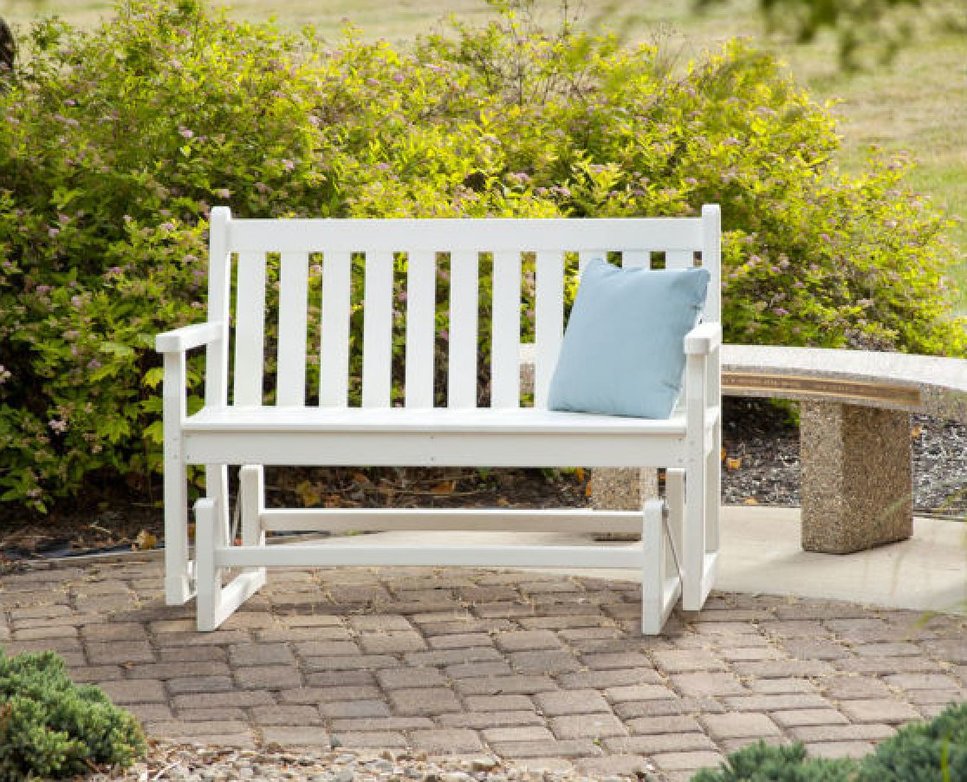 Our glider chairs, double gliders, and the coordinating ottoman are available in our best-selling lumber colors. The pigments are fully integrated into the lumber with Color-Stay Technology to keep the hues pristine, even after years of sun, rain, and use. The result is a saturated color that's continuous throughout. Lighter hues will stay brilliantly bright, and darker tones will remain vivid without the need to sand, paint, or restain.


From hot summer sun and rain storms to messy spills and stains, our heavy-duty lumber can handle it all. POLYWOOD all-weather outdoor furniture can be left out year-round, no covers required, for less work and more free time.
Easy does it. Our patio furniture will always look as good as new with very little effort. It doesn't need to be brought inside during inclement weather and cleans quickly and easily with soapy water and a soft-bristle brush.
Industry-leading Warranty
We understand that relaxation is about having peace of mind. That's why POLYWOOD outdoor furniture is built to last and backed by a 20-year warranty. Have any questions? Our Customer Experience Team is always here to help.
How to Clean Outdoor Glider Cushions
While high-quality outdoor cushions are specially designed to resist the elements, they are still somewhat susceptible to wear and tear. To prolong the life of your cushions and maximize the enjoyment of your deck, backyard, or front porch, it's a good idea to implement a regular cleaning schedule.
Beyond those quick rinse-offs and vacuumings, you'll want to be proactive in protecting your cushions. Some stains or spills call for a simple spot clean with soap and water. Other stains, like mildew, will require a little more effort and stronger cleaning solutions.
READ THE FULL CUSHION CARE GUIDE
Complementary Furniture & Accessories

Outdoor Gliders Buying Guides
Designing your dream garden or refreshing the front porch? This guide covers all things outdoor gliders, helping you decide what style, size, and material will work best.
Read More