Console Tables
Part form, part function, our outdoor console tables can serve as a catchall for everyday essentials or a canvas for inspiring decor displays. (On that note, we hear they make great mini bars too.)
Part form, part function, our outdoor console tables can serve as a catchall for everyday essentials or a canvas for inspiring decor displays. (On that note, we hear they make great mini bars too.)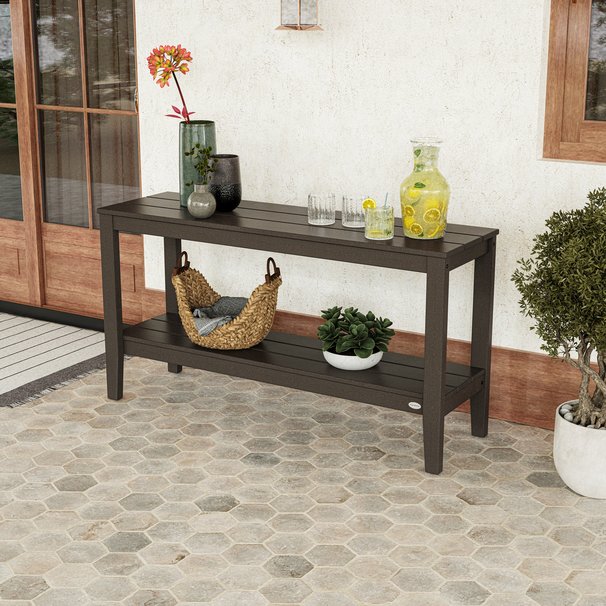 In everything we do, we work to create beautiful outdoor furniture that's easy to maintain and easy on our natural environment. Every product is carefully considered and expertly engineered for enduring quality and four-season durability. Our weatherproof styles are perfect for decks, patios, poolsides, beachfront properties, and balconies in any climate, any time of year.
Genuine POLYWOOD lumber offers what wood and other plastics simply cannot—eco-conscious outdoor furniture that lasts. Good for the planet and even better for busy lifestyles, our all-weather patio furniture is low maintenance, easy to clean, and fade-resistant.
"Before we had POLYWOOD furniture, we went with basic wood…and were SHOCKED to see how quickly it deteriorated in the Texas elements. Once we tried POLYWOOD, we decided we'd never purchase anything else. Not only is it beautiful, but it is maintenance-free. Plus, knowing that it is good for the environment helps us feel even better about our purchase."
- Allison Aars, Interior Designer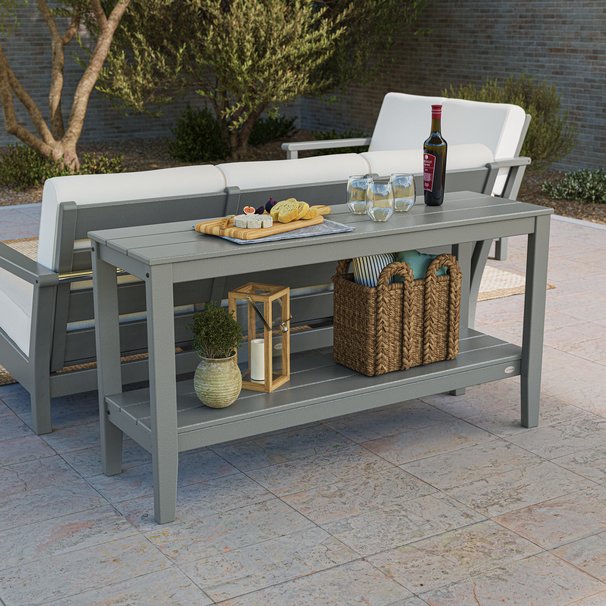 Rain, wind, and sleet shouldn't get in the way of enjoying your outdoor furniture. Unlike wood, POLYWOOD products are innovatively engineered to withstand all four seasons without splintering, rotting, cracking, or chipping.
Easy does it. Our patio furniture will always look as good as new with very little effort. It doesn't need to be brought inside during inclement weather and cleans quickly and easily with soapy water and a soft-bristle brush.
Sustainability has always been our second nature. To protect and preserve our planet's natural resources, we make our durable patio furniture from sustainable materials, including infinitely recyclable high-density polyethylene plastic.
What is the difference between a sofa table and a console table?
While both are wide, narrow accent tables, a sofa table lives behind your sofa while a console table is typically placed flush with a wall. Where it's placed is the main difference, but the actual designs are very similar. Both are great for creating extra surface space in often underutilized areas, and some even have drawers, additional shelves, or built-in storage. They look great styled with plants, accent lighting, and decorative objects.
Console tables are versatile pieces that are usually rectangular or demilune in form and between 30 and 36 inches tall. Most sofa tables are rectangular, and their heights vary. The correct height will be determined by your seating (the tabletop should be just below the top of your sofa).