Fire Pit Tables
Your backyard just became the new hot spot in town. Designed for easy entertaining and worry-free ambiance, our outdoor fire pit tables create an atmosphere that's at once cozy and convivial—don't forget the s'mores!

Fire Pit Tables
Your backyard just became the new hot spot in town. Designed for easy entertaining and worry-free ambiance, our outdoor fire pit tables create an atmosphere that's at once cozy and convivial—don't forget the s'mores!

Choose from a variety of colors to coordinate with your existing decor or to add tonal contrast. Not sure how to decide? Try Mahogany for a one-with-nature look or Black for a modern edge. For a versatile hue that pairs with virtually every color palette, Slate Grey is a surefire option (and a customer favorite). We always blend UV inhibitors and stabilizers into our high-density polyethylene (HDPE) lumber for rich, lasting tones.


Ready for endless family fun around the fire pit? Let's get glowing with expert advice about how to choose the right one for your outdoor space.
FIND OUT HOW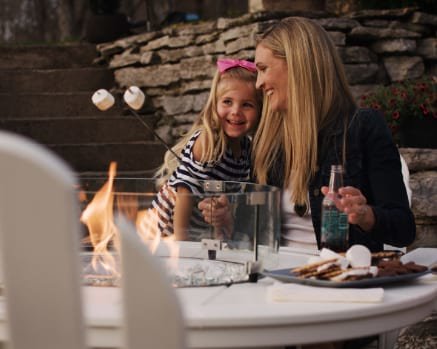 No matter the climate, square footage, or decor style you're working with, our outdoor fire pit tables let you see your space in a whole new light. Easy to coordinate with our patio furniture collections, these weatherproof designs work beautifully to bring warmth to decks, docks, patios, and poolsides.
Genuine POLYWOOD lumber is made from reusable and infinitely recyclable HDPE plastic, offering what wood and other plastics simply cannot—eco-conscious outdoor furniture that lasts. Good for the planet and even better for busy lifestyles, our patio furniture is low maintenance, easy to clean, and fade-resistant. All of our furniture is designed and proudly made in the USA.
"Its sleek design in Black matches our POLYWOOD Modern Adirondack Chairs. On low, it gives off enough comfortable heat, especially during Florida "winters." On high, it looks spectacular with the sparkling glass stones and produces enough heat to keep us warm on super chilly nights. The table is large and stable enough for cocktails, a charcuterie board, and snacks, which makes it perfect for gatherings or a casual date night."
Square 42" Fire Pit Table, purchased Dec. 2021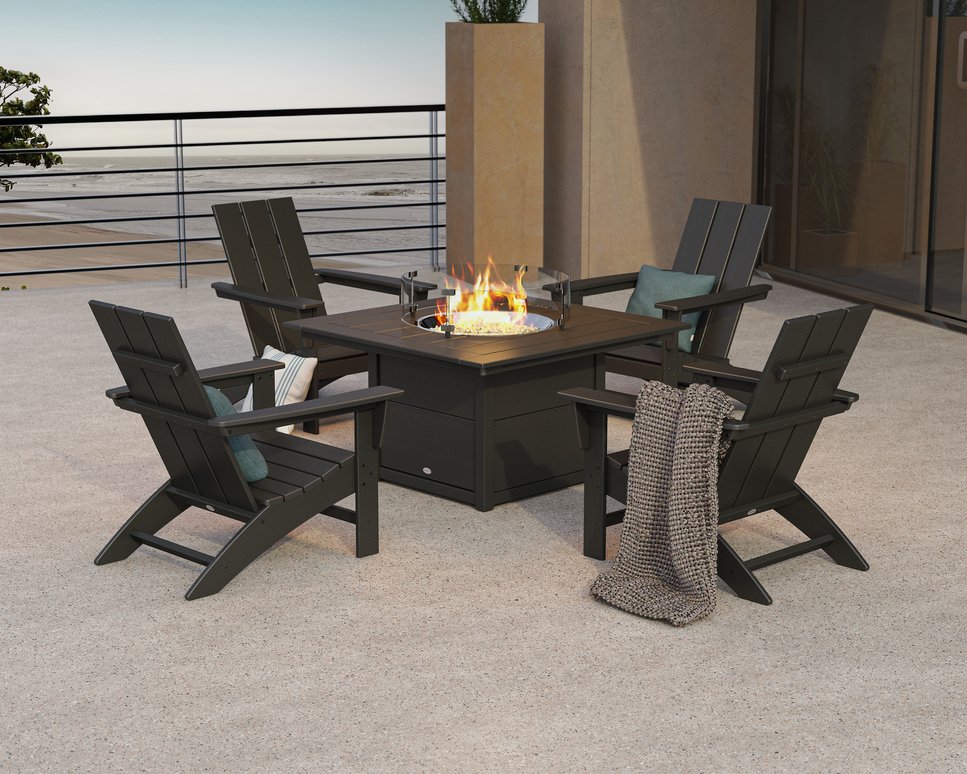 Easy does it. Our patio furniture will always look as good as new with very little effort. It doesn't need to be brought inside during inclement weather and cleans quickly and easily with soapy water and a soft-bristle brush.
Industry-Leading Warranty
We understand that relaxation is about having peace of mind. That's why POLYWOOD outdoor furniture is built to last and backed by a 20-year warranty. Have any questions? Our Customer Experience Team is always here to help.
From hot summer sun and rain storms to messy spills and stains, our heavy-duty lumber can handle it all. POLYWOOD all-weather outdoor furniture can be left out year-round, no covers required, for less work and more free time.
Designed with extra surface around the circular fire bowls, these dual-function designs combine the convenience of a coffee table with the coziness of a hearth. The round table measures 48 inches in total diameter, while the diameter of the bowl itself is approximately 20 inches. This gives you 14 inches of surface for s'more supplies, wine glasses, or coffee mugs.
Our square table features a 42-by-42-inch tabletop with a 19-inch fire bowl. This leaves roughly 11 inches of usable space on all four sides. Both tables stand at about 23 inches tall—just the right height for seated conversation.

Do fire pit tables give off heat?
Yes, they generate heat. The intensity of the heat, however, will vary on the size of your table and the pit itself, as well as the fuel source used. Gas fire pits are rated for heat output in BTUs (British thermal units). The higher the BTU, the hotter the fire.
What is the difference between a fire pit and a fire table?
Fire pit tables are attractive outdoor features with a base, top, and fire bowl components. Fire pits can be something as simple as an in-ground hole enclosed by stones or pavers.
How does a fire pit table work?
Most tables use a propane tank or natural gas to create a fire without any smoke, soot, or scent. They often feature a push button that ignites the burner. Made to use in lieu of logs, fire table fillers like glass gems or lava rocks work to centralize the flames and allow for the airflow needed to keep them stoked.
Can you put a fire pit table under a covered patio?
Yes, you can put POLYWOOD fire pit tables under a covered patio*. Our clean-burning designs are fueled by either propane or natural gas and feature an incorporated glass wind guard to safely contain flames, even on breezy nights.

*Always research your local fire and building codes for any regulations or rules against installation and placement.