Outdoor Deep Seating
Bring the cozy comfort of indoor furniture outside with POLYWOOD® deep seating patio furniture pieces and sets. Thanks to the durable HDPE lumber and weather-resistant outdoor performance fabric, you can enjoy enhanced relaxation on our attractive outdoor lounge furniture anywhere in your outdoor space all year long.
Why POLYWOOD?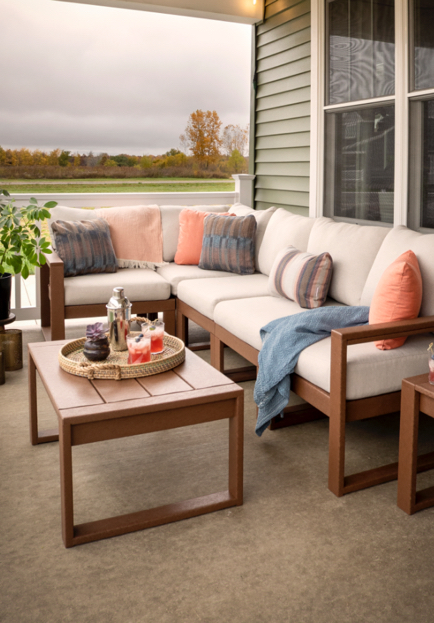 You can have it all for every outdoor space surrounding your home with our diverse selection of deep seating sofas, chairs, ottomans, chaise lounges, and deep seating patio furniture sets. We offer a variety of deep seating options in several of our popular outdoor lounge furniture collections including Vineyard, EDGE, Harbour, Braxton, Lakeside, and many more. From charming sofas and chairs that speak to provincial front porch living, to contemporary sectionals that are scaled to fit modernly-styled balcony decks of any size, there is sure to be a deep seating piece or set that you'll find appealing.
Our main goal when creating all of our beautiful deep seating outdoor furniture is to provide you with an unrivaled level of comfort. We've designed supportive outdoor deep seat cushions and covered them in soft, stylish outdoor performance fabric of the highest quality and placed them atop complementing all-weather frames that are constructed of genuine POLYWOOD® lumber. In addition to being attractive, comfortable, and durable, our outdoor deep seating pieces and sets are easy to clean and require very little upkeep, leaving you with more time to do what really matters — relaxing and making memories with your family.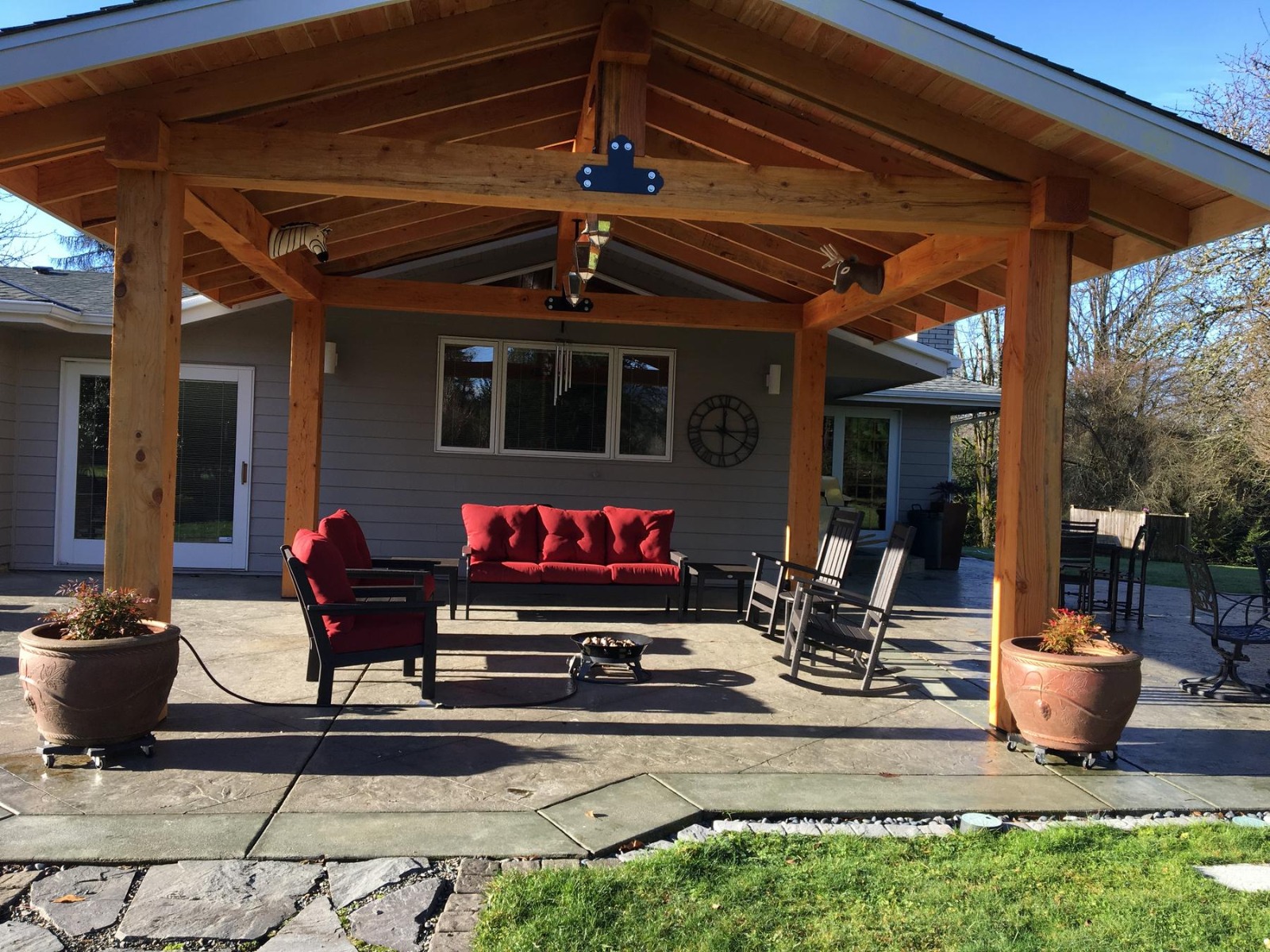 "We added a covered area to our patio and after much research decided on POLYWOOD Vineyard Collection. Furniture arrived as promised, easily assembled and the quality is exceptional. Sturdy, comfortable and beautiful at the same time."
Frequently Asked Questions
What is deep seating patio furniture?
Deep seating patio furniture is outdoor furniture that has a deeper (longer from back to front) seat. The frames have short legs (or none at all) and the seats are
typically lower to the ground to compensate for the height of the thick seat and back cushions that are designed to fit the frame. This allows you to scoot back until your thighs are fully resting on the seat.
... Read More
What is a comfortable seat depth?
This is entirely up to you and your needs. There is no "one size fits all" measurement that you need to adhere to when picking out deep seating patio furniture. Deep seating
furniture is great for individuals who are taller or have longer legs, or for those who like to get cozy and tuck their legs beneath them when they sit. The seat depth for our deep seating options ranges from about 31 inches to 36 inches. You can get an in-depth comparison of our deep seating pieces in this blog post!
... Read More
How can I make my patio furniture more comfortable?
If you want to make your outdoor deep seating furniture even more comfortable and fashionable, add a few all-weather pillows from our
Modern Farmhouse
,
Rustic Farmhouse
, or
Modern Nautical
collections. Our pillows
are covered in weather and fade-resistant fabric — the same type of fabric that we use to upholster our deep seating patio cushions. Outdoor pillows are also an excellent way to add tasteful accents of color that complement the shades of your outdoor deep seating cushions and decor.
... Read More
Is it possible to order different color combinations for deep seating sets than what's shown on POLYWOOD's website?
You can pick different color combinations for our existing deep seating frames and cushions using the fabric and lumber options we offer. Submit a request
to our Customer Experience Team — they'll be able to work with you to create a custom order.
... Read More
Can deep seating cushions be removed from the frames?
Yes! Our deep seating cushions are removable so you can store them or flip them to even out wear.
Can POLYWOOD deep seating pieces be used without cushions?
Yes! The backs of our reclining chaise lounges can be adjusted to multiple positions so you can sit upright or lie completely flat.
Deep Seating Patio Furniture Features

Weather Resistance
Our comfortable outdoor lounge furniture is well-known for being durable and resistant to many harsh weather conditions such as severe sun exposure, blizzards, high winds, humidity, and more.

Low Maintenance
We offer the most comfortable outdoor lounge furniture that requires very little upkeep so you can save the painting, staining, and waterproofing for your future DIY projects.

Durability
Our genuine POLYWOOD lumber is backed by a 20-year warranty. This durable lumber is resistant to corrosive substances and stains, and it's not prone to cracking, peeling, chipping, or rotting.

Sustainability
The genuine POLYWOOD lumber that's used to construct the frames of our deep seating furniture is created using ocean-bound and landfill-bound HDPE plastic.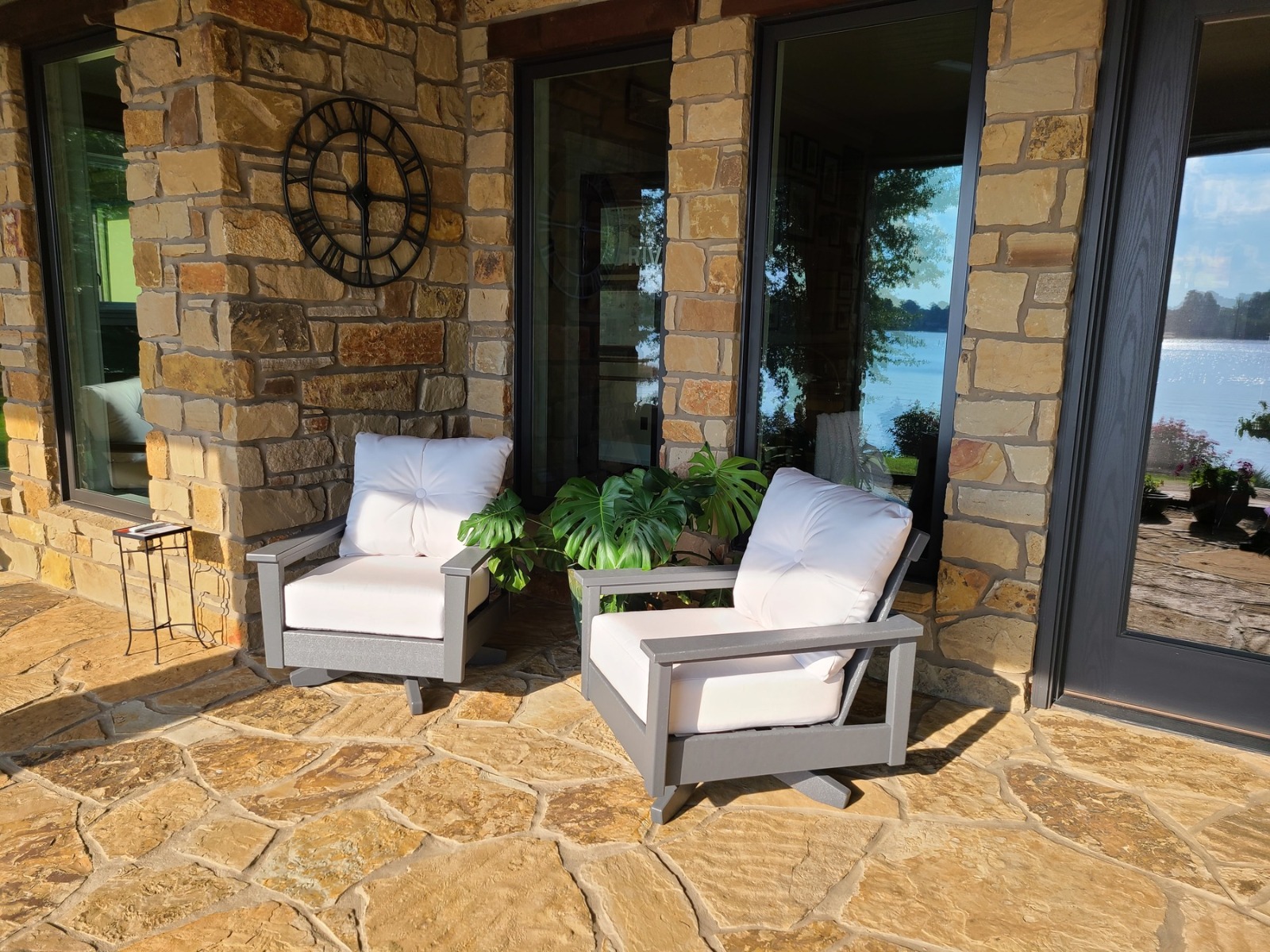 "I love the loveseat! It looks really great on my porch so I ordered a chair to go with it. I'll probably order another chair and an end table. I had a little trouble with assembly. The very last bold to go in was too short so I had to have it re-sent. When it arrived, it was still the short version so my son-in-law had to go to Lowes to get a substitute. Outside of that, it's great quality. I've had polywood in two other houses and find it to be pretty much indestructible and maintenance-free. Thanks, Polywood!"
Outdoor Deep Seating Furniture Colors
You can use the wide variety of lumber and fabric colors we offer as one more way to express your unique style. Browse our many collections to find the right style that accentuates the best features in your home's design. White outdoor lounge furniture with colorful throw pillows can really brighten up a sitting area on your patio, or a deep seating chair and matching ottoman with upholstery and lumber finishes in natural earth tones can make your front porch feel like a calming refuge. Choose the pieces and sets that speak to you, and watch as your outdoor space is transformed into a gorgeous relaxation spot that you and your family will be proud of.
WHERE TO ENJOY YOUR OUTDOOR DEEP SEATING FURNITURE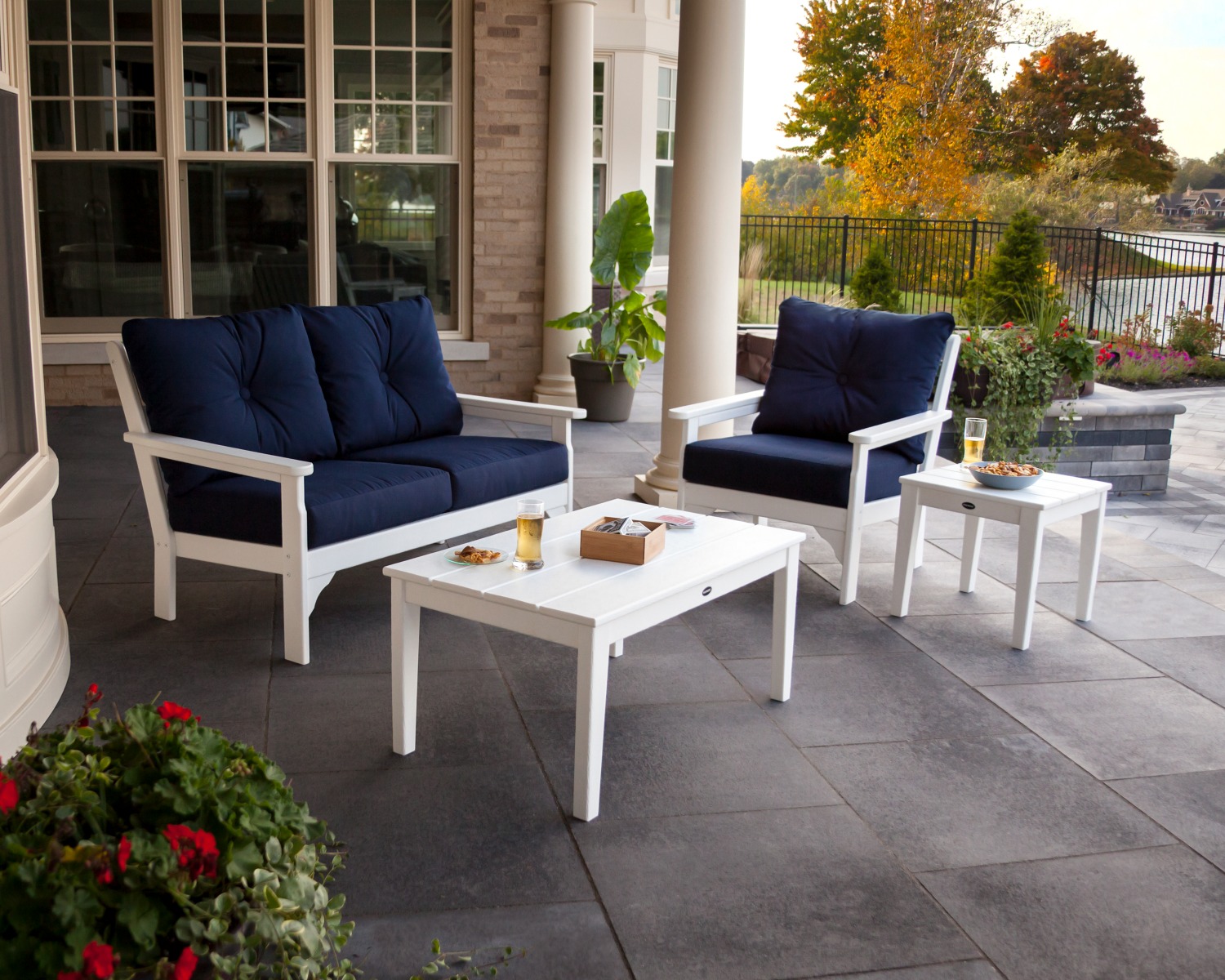 On the Patio
Patios are more pleasing to the eye when you fill them with deep seating patio furniture. The Vineyard 4-Piece Deep Seating Set will ensure your patio stays idyllic and inviting.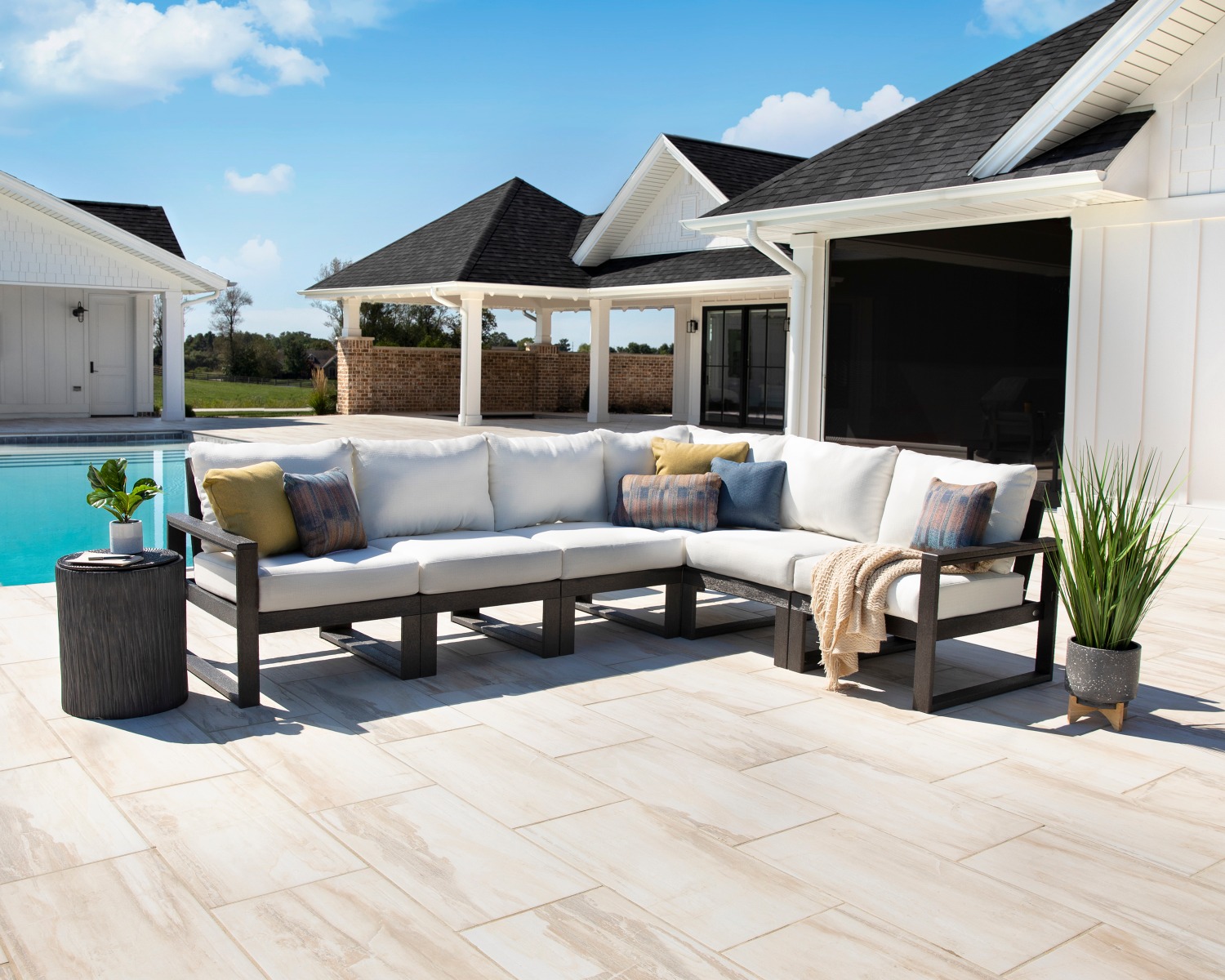 By the Pool
Make poolside activities even more enjoyable with outdoor patio lounge furniture. If you have a larger space surrounding your pool, the EDGE 6-Piece Modular Deep Seating Set can be your go-to spot for sunbathing, reading, or conversation and cocktails with friends.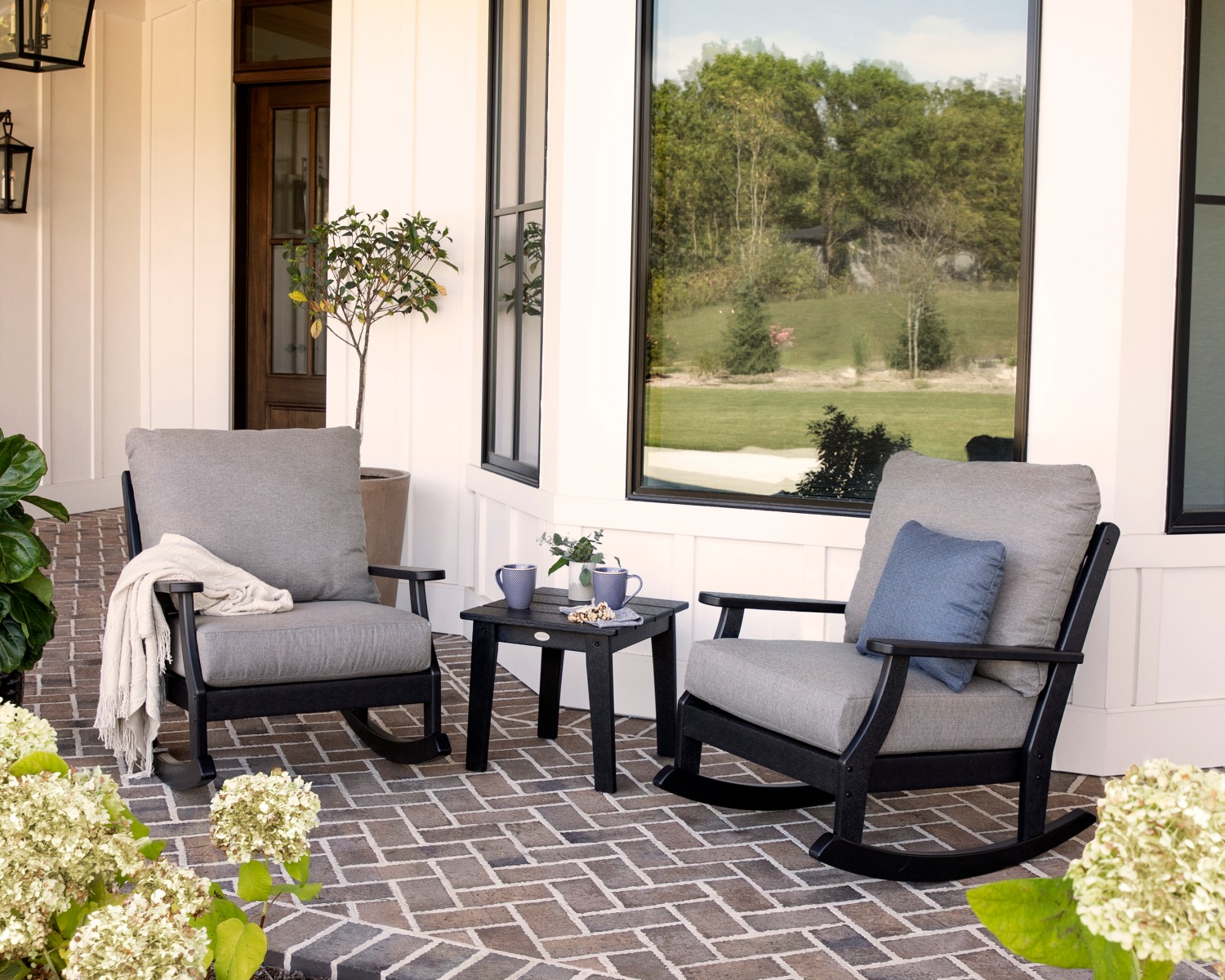 On the Porch
Guests will feel right at home when they relax on an outdoor deep seating set that you arranged on your front porch. You and a guest can sink into the soft cushions of the Braxton 3-Piece Deep Seating Rocker Set and enjoy hour after hour of stimulating conversation.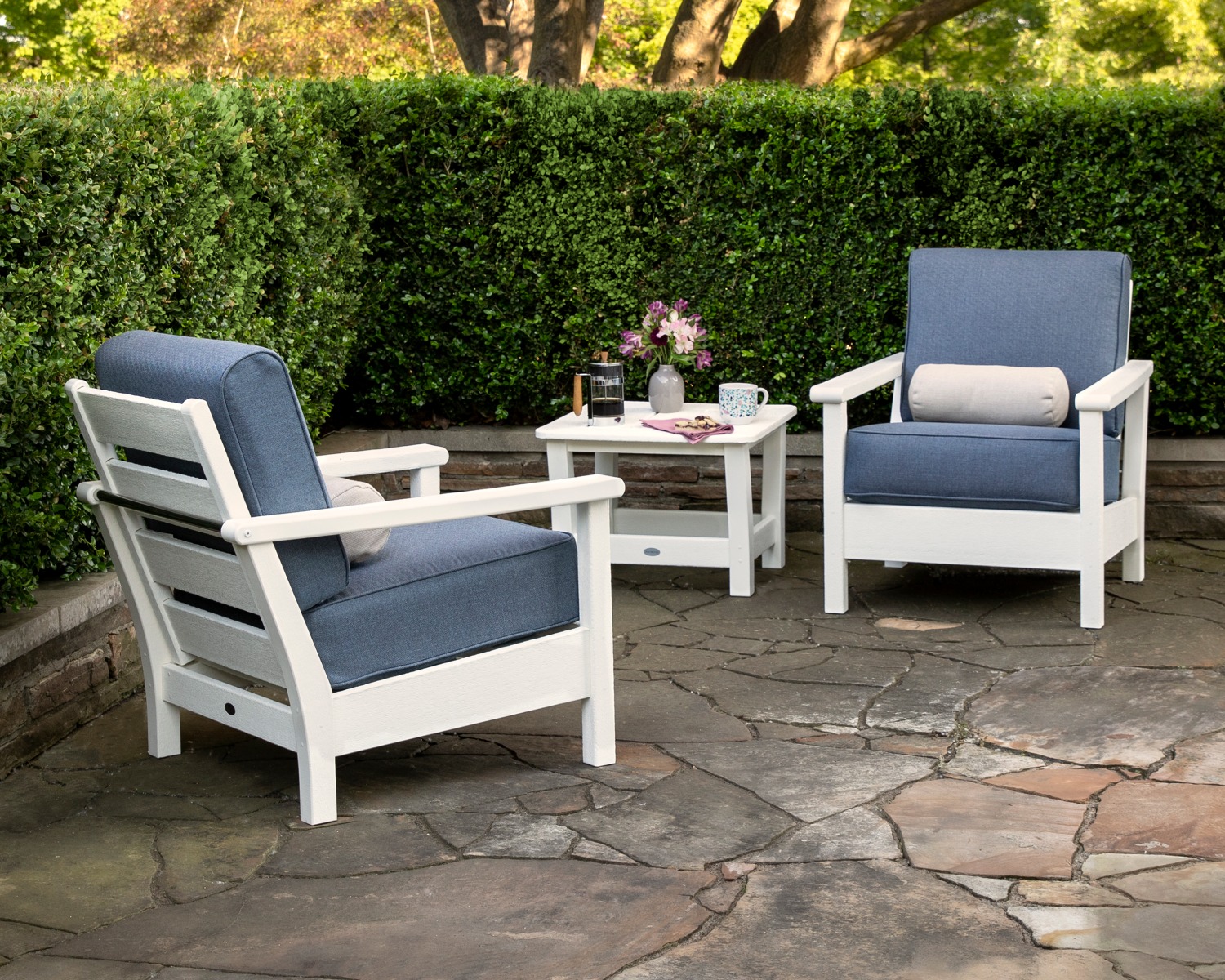 In the Garden
Need a comfortable place to sit and read amongst the blooms in your flower garden? Grab your favorite book and settle into the Harbour 3-Piece Deep Seating Set. Here you can enjoy hours of cushioned comfort while being surrounded by the flowers that you lovingly tended.
Types of Outdoor Deep Seating Furniture
Deep Seating Furniture Reviews
We love a good review! Check out what other customers are saying below: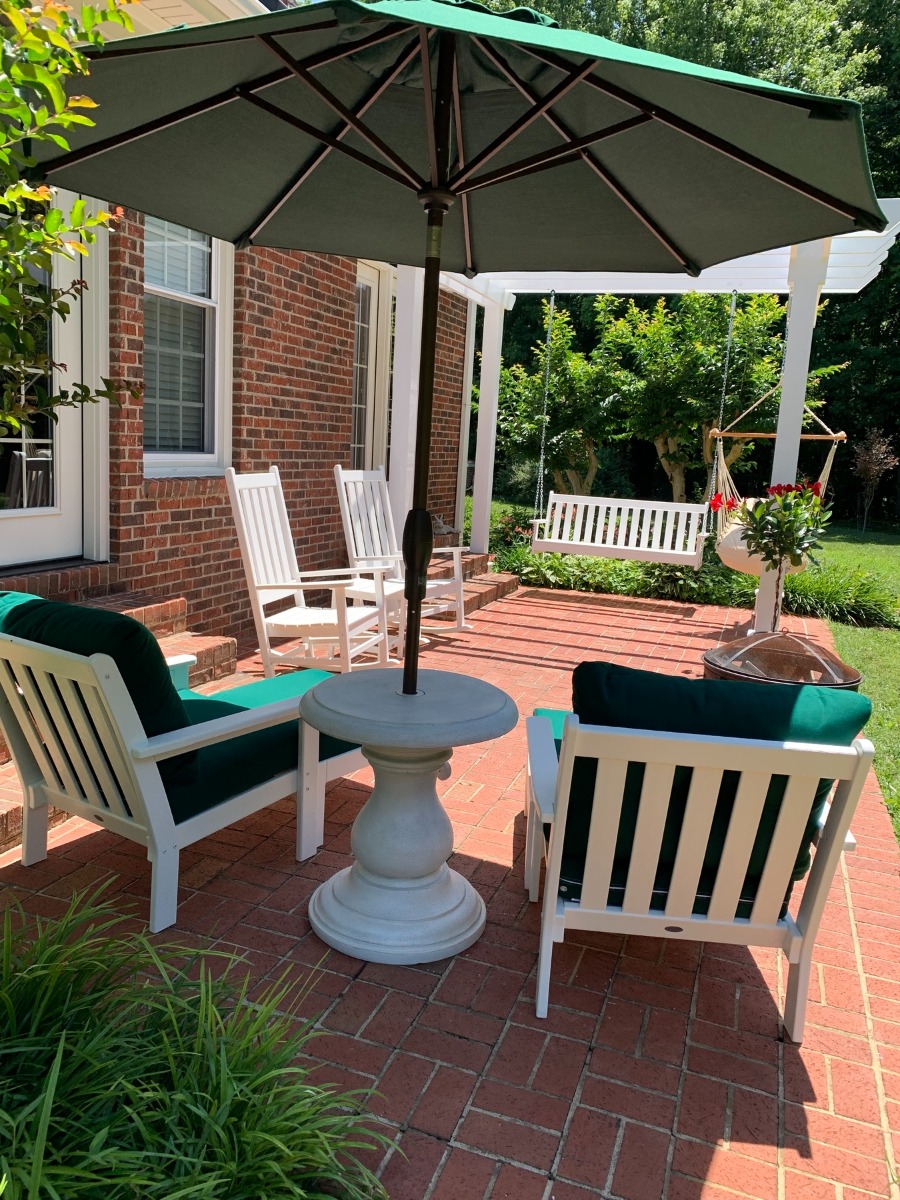 Perfect for the classic patio!
"Love the Vineyard deep seating patio chairs!"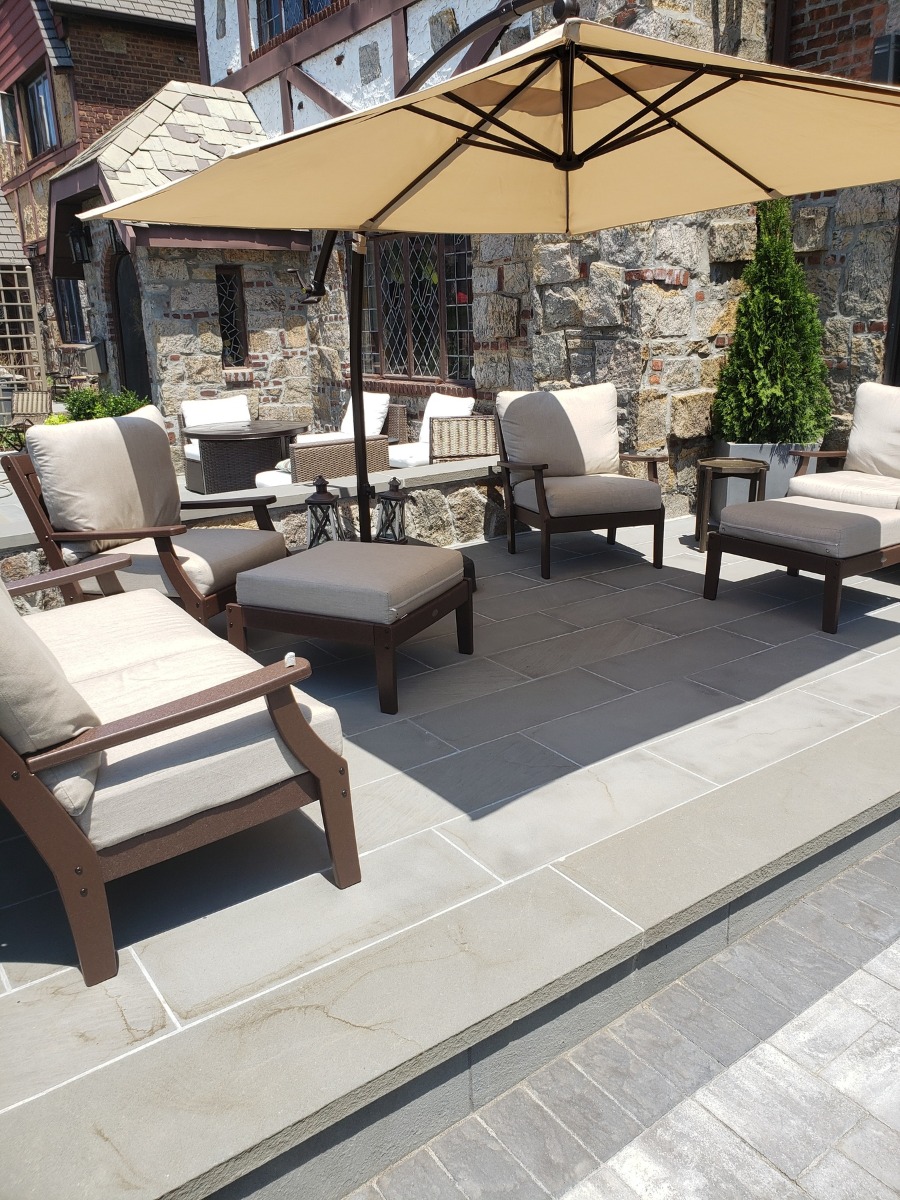 Was worth the wait!
"Love the POLYWOOD Braxton Deep Seating. We have them set up on our front patio. Extremely comfortable. Already looking into pieces for my backyard."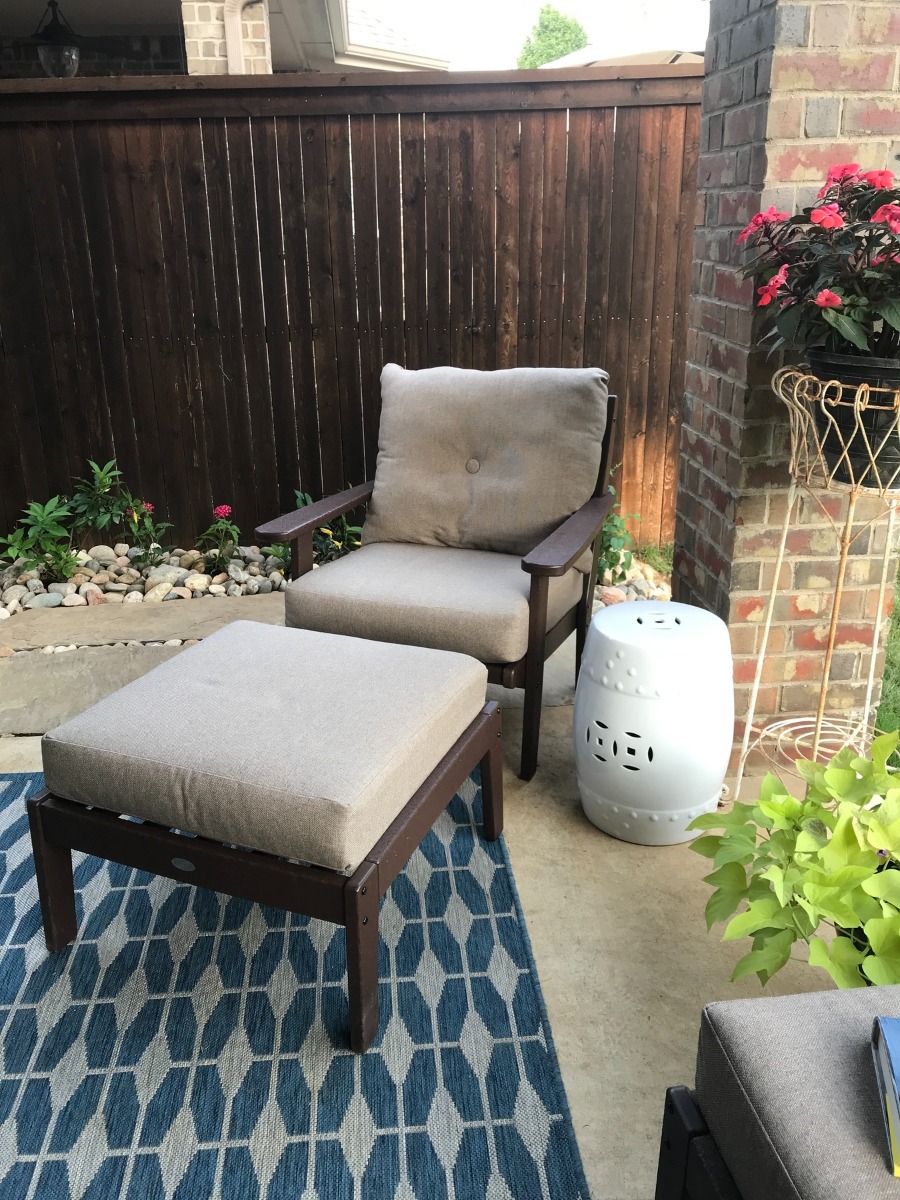 Great chairs for relaxing comfort
"I love these chairs! They are super comfortable and I'm very happy with the thickness of the cushions. I expect we'll use them for years to come. Recommend pairing with an ottoman.