Outdoor Dining Sets for Your Patio
Enhance your alfresco dining experience with a POLYWOOD® outdoor dining table set. Our wide selection of outdoor furniture dining sets will allow you to create a stylish outdoor dining space that's unique to your design style.
Why POLYWOOD?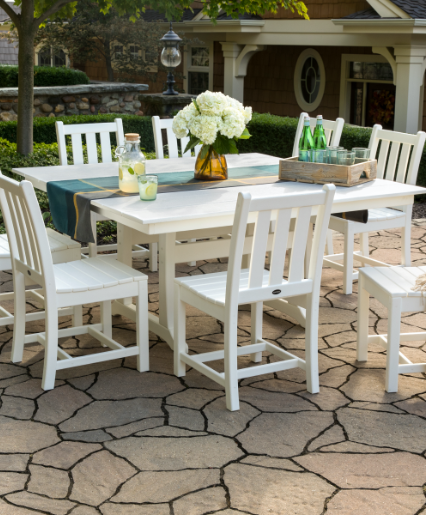 POLYWOOD outdoor dining sets are designed with your family in mind. We've created durable outdoor dining tables and chairs that coordinate perfectly to make sets that can continually meet the dining demands and style preferences of any household. Whether you have a large family and favor a 9-piece outdoor dining set or 7-piece outdoor dining set with a rustic farmhouse design or have a smaller family with more contemporary tastes and desire a 5-piece outdoor dining set, there's a curated outdoor dining set perfect for you.
Our modern outdoor dining sets are not only stylish — they're sustainable too! All of our outdoor dining table and chairs are constructed from genuine POLYWOOD lumber, a durable material made using recycled ocean-bound and landfill-bound high-density polyethylene (HDPE) plastic. Our HDPE lumber is low-maintenance, easy to clean, can handle any outdoor climate, and keeps our planet healthy.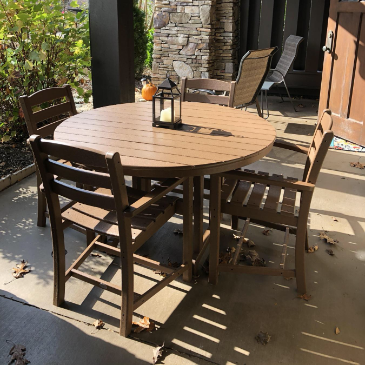 "The customer service is excellent. I would receive an email throughout, giving me the status. Then I needed to change my delivery address and the lady who helped me was prompt and efficient and very kind. I would recommend this product to anyone who wants too quality and professional service. Thank you!"
Outdoor Dining Set Features

Weather Resistance
Our genuine POLYWOOD lumber can handle all types of weather from hot desert heat to the most frigid blizzards.

Low Maintenance
All POLYWOOD furniture is easy to clean and never needs to be painted, stained, or waterproofed.

Sustainability
We give ocean-bound and landfill-bound plastic containers a second life by recycling them into our genuine POLYWOOD lumber.

20-Year Warranty
We proudly back our genuine POLYWOOD lumber with a 20-year residential warranty.
Dining Set FAQs
Can you leave POLYWOOD dining sets outside all year long?
POLYWOOD furniture is built to live outdoors in every season. You can leave it outside all year long and can trust that it won't get damaged by harsh weather or environmental stressors.
Can you mix and match chairs and tables to make your own POLYWOOD dining set?
Yes! We create sets using pieces from our collections so our customers can get a visual of what a possible set will look like, but you can pair any POLYWOOD
dining chair with any dining table to make a set that's unique to you. The same idea applies to our counter- and bar-height dining chairs and tables.
... Read More
What is the weight capacity for chairs in the POLYWOOD dining sets?
All of our chairs are tested to ASTM standards and have been rated for commercial use at up to 400 pounds.
Do the tables in POLYWOOD dining sets come with holes for umbrellas?
Yes, most of our dining, counter, and bar tables come with a 1.625" center hole for a standard umbrella. A hole cover is included so you can plug the hole when an umbrella isn't being used.
How do you remove the center plug from a dining table to reveal the umbrella hole?
Press up on the umbrella hole cover from the underside of the dining table — it should pop right out!
Are POLYWOOD dining sets easy to clean?
Yes, all you need to clean POLYWOOD furniture is soapy water and a soft-bristle brush. Give your furniture a good scrub, rinse with clean water, and then let it air dry
Can you paint or stain POLYWOOD dining sets?
Painting, staining, and waterproofing POLYWOOD furniture is not necessary and is not recommended as it will void the product's warranty.
Can you fit more chairs around POLYWOOD dining tables than the number of chairs the set comes with?
Our dining tables are spacious so you can add more chairs if you choose, but it might be a tight squeeze.
What seat cushions fit POLYWOOD dining chairs?
We offer a variety of outdoor seat cushions that fit our dining, counter, and bar chairs. If you visit the individual product page for a cushion, the coordinating chair will be listed for your convenience.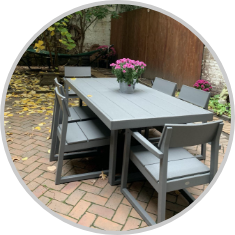 "Looks fantastic. Love the modern lines. Had my first socially distanced gathering and it was perfect. Easy to assemble table BUT very heavy. Definitely a two person job to move the table.
Outdoor Dining Set Colors
Choose from a variety of vivid, long-lasting colors so you can have a dining set that coordinates perfectly with your outdoor decor whether you want an inviting white outdoor dining set, a cool slate grey outdoor dining set, or a bold black outdoor dining set. We use light-stable pigments, stabilizers, and UV inhibitors in our lumber to ensure the color and integrity of the product is protected against outdoor elements.
Where to Enjoy Your Outdoor Dining Sets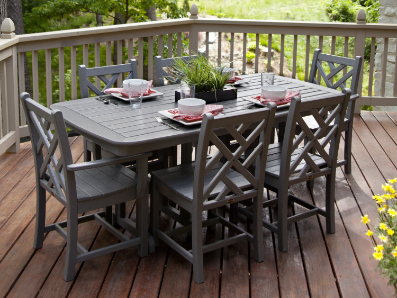 On the Patio
The perks of patio dining are plentiful, and using one of our patio dining sets, such as the Chippendale 7-Piece Dining Set, in your space is one of them.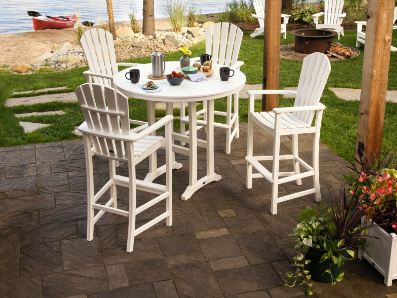 By the Pool
Mixing margaritas can be even more enjoyable when you sit back and relax in one of our bar sets poolside such as the Palm Coast 5-Piece Bar Set.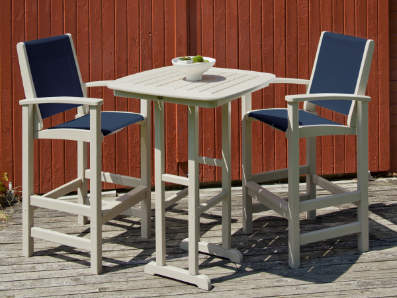 On the Front Porch
A cozy spot on your porch can fit a smaller dining set, such as the Coastal 3-Piece Bar Set, so you can enjoy an intimate meal with your friends.
Types of Outdoor Dining Sets
Furniture Reviews
We love a good review! Check out what other customers are saying below: