Outdoor Adirondack Chairs
Adirondack chairs have long been associated with winding down and relaxing. Have a seat outdoors in one of our Adirondack chairs which combine style and comfort to create a modern twist on a timeless design.
1;

Why POLYWOOD?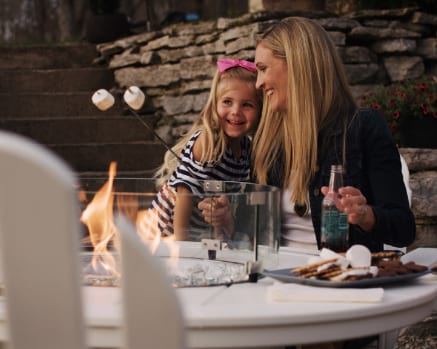 POLYWOOD® Adirondack chairs combine style, beauty, and comfort to create a modern twist on a classic design. Our weatherproof Adirondack chairs are perfect for decks, patios, poolsides, beachfronts, and balconies in any climate.
When you choose to buy POLYWOOD Adirondack chairs you can rest assured you and your family will enjoy them season after season. We took the idea of the classic Adirondack chair and improved both the aesthetics and quality. Our unique HDPE lumber is superior to traditional wood and other plastic materials — POLYWOOD Adirondack Chairs are completely weather-resistant and unlike natural wood, they won't crack or rot.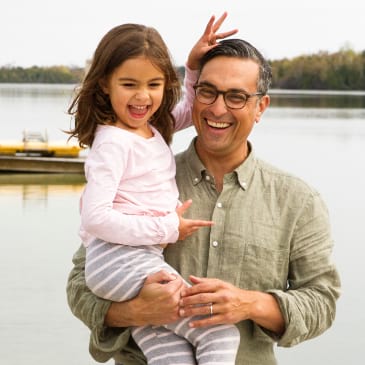 "After dinner, we gather around the fire pit and break out the s'mores with my girls. These are the moments that are important."
Adirondack Colors
Choose from a variety of traditional earth tones like brown, black, white, and green Adirondack chairs as well as vibrant options such as blue, red, yellow, and orange POLYWOOD Adirondacks. Before you land on the perfect, colorful Adirondacks for your space, consider whether you'd like just one color overall or several chairs in coordinating colors for a look that's unique to you.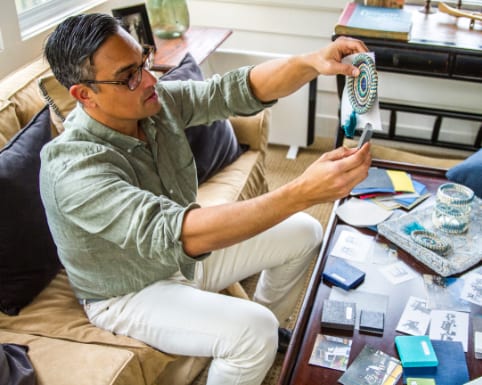 Choose the Perfect Adirondack Color
Angelo's Designer Tips:
"Think about the type of mood you want to create with your outdoor space and seek colors that will coordinate with the natural elements in your area. Be sure to take sunlight into account as well and imagine what colors will look like on a bright day vs an overcast day. For instance, some Adirondack colors may be distracting when placed on a patio that receives full sun all day long."
Adirondack Features

Weatherproof
Unlike cheap Adirondack chairs you'll replace each season, POLYWOOD weatherproof Adirondack chairs are built to withstand all four seasons and a range of climates including hot sun, snowy winters, salt spray, and heavy winds.

Low Maintenance
When you're in the market to buy an Adirondack chair be sure you'll spend your time relaxing, not maintaining. Genuine POLYWOOD lumber ensures each of our Adirondack chair designs cleans easily with soap and water and never requires painting, staining, or waterproofing.

Recyclable
One of the most unique features of our Adirondack chairs is that they're infinitely recyclable! Each day, we transform truckloads of recycled milk jugs into genuine POLYWOOD lumber to construct our wide array of Adirondack chair styles.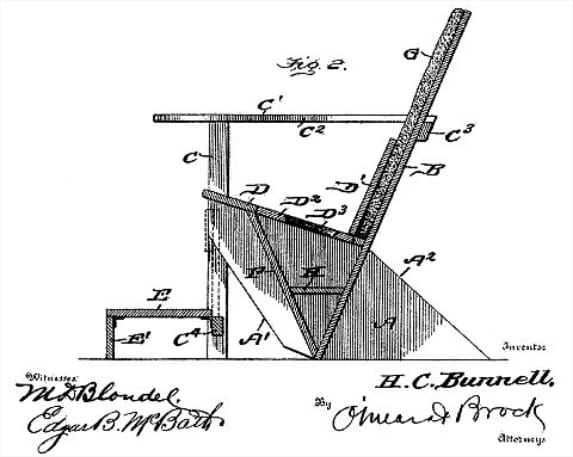 Why are they called Adirondacks?
The Adirondack chair is actually named after the Adirondack Mountains. Traditionally made from several flat wooden boards, the original Adirondack chair was designed by Thomas Lee in 1903 and featured a straight back, deep slanted seat, and wide armrests. Refined in 1938, the Adirondack chair was styled for greater comfort featuring a contoured seat and backrest.
Today, the number of Adirondack chairs for sale is vast. At POLYWOOD, we offer many different styles of colorful Adirondack chairs including the Nautical Curveback, South Beach, Palm Coast, Long Island, Modern, and many more!
Adirondack Chair FAQs
Are Adirondack chairs comfortable?
Yes, thanks to their laid-back design, Adirondack chairs are quite comfortable. Our top-rated Adirondack chairs are available in a variety of designs — many of which feature curved backs, contoured seats, folding features, and hideaway ottomans. You can find the best Adirondack chairs for your needs through us!
How much do POLYWOOD Adirondack chairs weigh?
POLYWOOD heavy-duty Adirondack chairs typically weigh between 30 and 50 pounds each.
What is the weight capacity for POLYWOOD Adirondack chairs?
We test our durable Adirondack chairs to ASTM standards, and they are all rated for commercial use to hold up to 400 pounds each.
Can POLYWOOD Adirondack chairs be left outside all winter long?
Yes! Our heavy-duty Adirondack chairs were built to withstand all types of weather, including winter weather.
Are POLYWOOD Adirondack chairs stackable?
No, at this time we do not offer any stackable Adirondack chairs.
What is the most popular Adirondack chair style?
Types of Adirondacks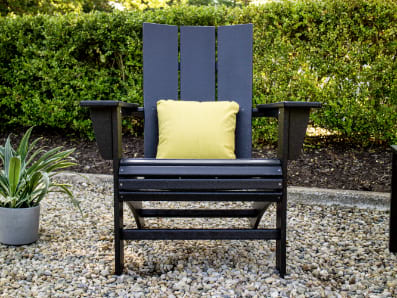 Modern
In place of the customary curved shape at the top/back of the chair, POLYWOOD Modern Adirondack Chairs feature a clean, straight horizontal edge. This simple design alteration lends POLYWOOD Modern Adirondack Chairs a fresh, contemporary look while retaining the enduring Adirondack chair style loved by all.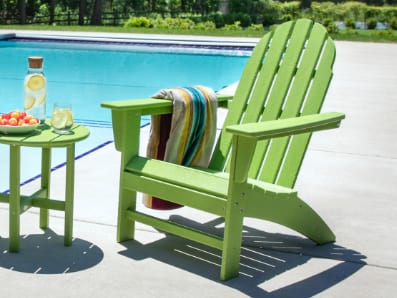 Traditional
Traditional style Adirondack chairs feature a classic fan-back design, reminiscent of the original 1904 design, but with a refined aesthetic and comfortably curved seat and back. This iconic design belongs on the beach, in the mountains, and on the patio during harsh Michigan winters — it's the ultimate weatherproof Adirondack chair.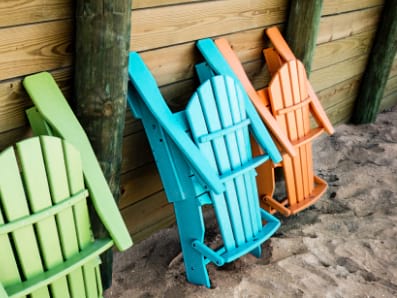 Folding
POLYWOOD folding Adirondack chairs are simple to fold flat and store when not in use (the perfect chair if you're short on space). These unique Adirondack chairs can even travel with you! To fold, simply remove two 'pins' at the front of the chair.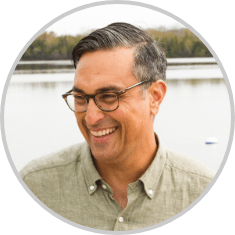 "I personally love the Modern Adirondack style — fewer back slats vs multiple slats. I like the visual simplicity of less linear lines. But, you can't go wrong with a traditional style Adirondack, it's just a timeless design."
Top Adirondack Materials
Adirondack chairs are available in a variety of materials — HDPE lumber, teak, aluminum, and injection-molded plastic, to name a few.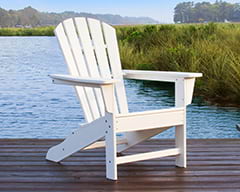 1. POLYWOOD (HDPE Lumber) Adirondack Chairs
It's no surprise our favorite material for Adirondack chairs is high-density polyethylene (HDPE for short). HDPE is a durable, weather-resistant plastic also used in milk jugs and detergent bottles. POLYWOOD Adirondack chairs can be left outside all year-round, clean easily with soap and water, and are available in an array of fade-resistant colors.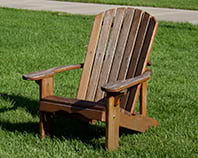 2. Wooden Adirondack Chairs
Teak is one of the best hardwoods for outdoor furniture — better than other woods like pine, oak, bamboo, or wicker. Wooden Adirondack Chairs can remain outside all year-round, but they're difficult to maintain and require regular cleaning and oiling to avoid a "silver patina".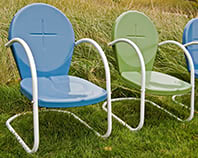 3. Aluminum Adirondack Chairs
Aluminum is a durable, easy to maintain material that can be left outside all year-round as it's resistant to water and rust. Aluminum Adirondack chairs are lightweight and easy to move around the patio, but also susceptible to wind gusts.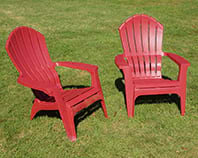 4. Plastic Adirondack Chairs
Injection-molded plastic is one of the least expensive options for Adirondack chairs and is resistant to water and rust. Unfortunately, cheap plastic Adirondack chairs fade quickly in the sun, are vulnerable to stains, and generally unstable — breaking easily within a year or two of purchasing.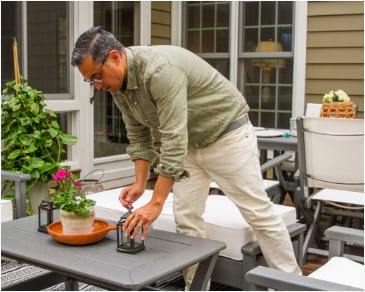 "There's not a moment where I think POLYWOOD won't withstand the weather — it's a product you can trust."
Adirondack Chair Buying Guide
Still can't decide on what type of Adirondack chair to buy? Check out our comprehensive guide to choosing the perfect outdoor Adirondack chair for your patio or backyard over on the blog!