POLYWOOD® Modern Adirondack Chairs
Browse our wide selection of modern Adirondack chairs to find a seating option that brings style and sophistication to any outdoor setting.
Adirondack Chair Fit Guide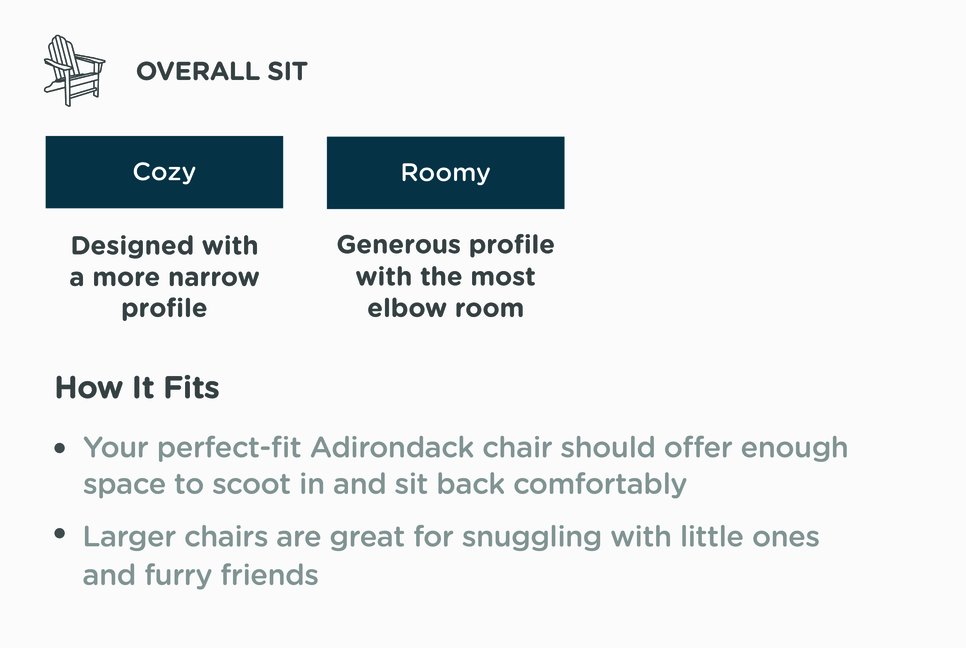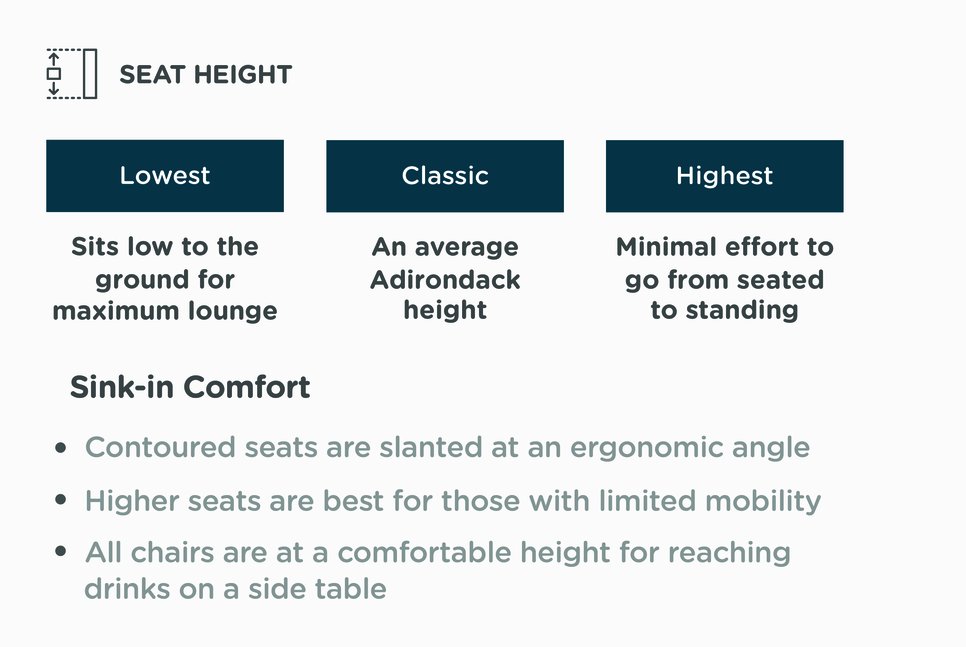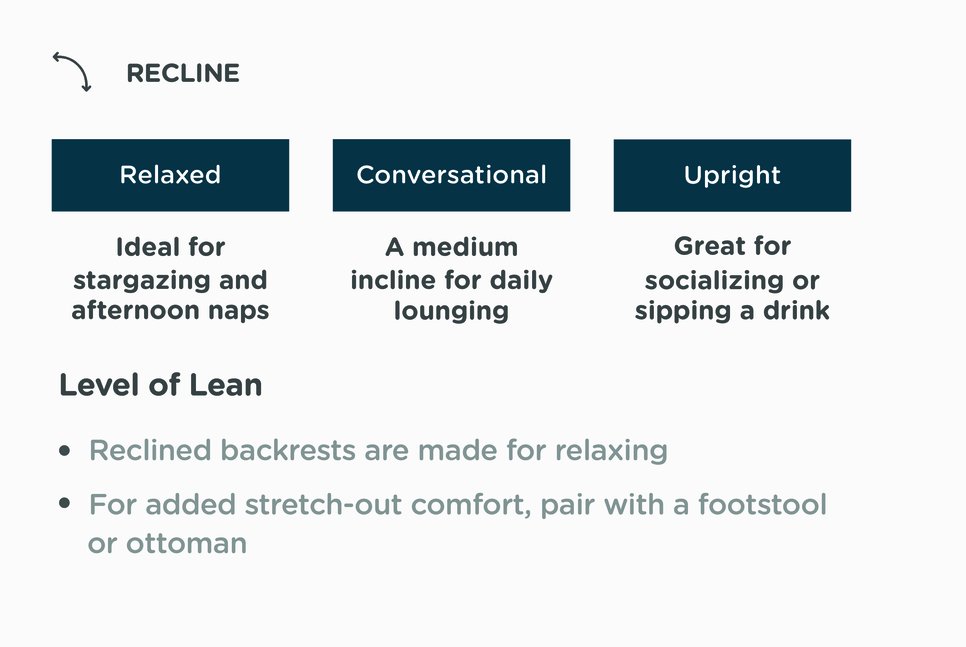 POLYWOOD Modern Adirondack Chair Colors

Thanks to our Color-Stay Technology, our fade-resistant lumber stays pristine even after years of sun, rain, and use. Vivid pigments run continuously throughout the material, while UV inhibitors and stabilizers keep the hues vibrant without the need to sand, paint, or stain.


A front porch classic, our Adirondack rockers know how to make an entrance by combining the best features of two iconic styles. 
Sit and stay a while longer. The perfect addition to your favorite Adirondack, our footstools instantly upgrade your downtime.
A design that puts the 'fun' in multifunctional, these folding chairs are a breeze to transport and store when not in use.
Elevate every meal with our bar- and counter-height Adirondacks, which take a more casual approach to outdoor dining.
It's always patio season with our Adirondack sets. With a range of color and style choices, designing your dream space is easier than ever.
Find a new point of hue. In a rainbow of shades, our colorful Adirondacks can be mixed and matched to your heart's content.
What's the difference between modern, transitional, and classic styles?
POLYWOOD Adirondacks can be sorted into three distinct styles. Classic styles pay homage to traditional designs and familiar forms that have stood the test of time. A modern design can be defined by a sleek leg profile, clean angles, and minimalist silhouette. Transitional styles fall somewhere in between, balancing straight lines with softer curves for timeless appeal.
"These chairs have been the best addition to our outdoor fire pit. Thank you POLYWOOD!!!"
Complement Your Conversation Area

Real glow-getters, our irresistibly cozy fire pit tables create the perfect place to gather in the great outdoors.
We saved you a seat. Our patio chairs come in all shapes, sizes, and styles for endless ways to enjoy your leisure time.
Make yourself at home (outside). Crafted for comfort, our lounge furniture invites you to rest, relax, and repeat.
Big on style and low on maintenance, our spill- and stain-resistant dining furniture masters the art of alfresco entertaining.

What's the difference between an Adirondack and a Muskoka chair?
While very similar and sometimes thought of as such, they are not the same. Generally speaking, Adirondack chairs are slightly taller and have a wider silhouette. The first Adirondack was invented in New York by Thomas Lee, and the design eventually made its way north to Canada. After a few years and modifications, it was renamed as a nod to Muskoka, Ontario.

Additional Adirondack Features

Rain, wind, and sleet shouldn't get in the way of enjoying your outdoor furniture. Unlike wood, POLYWOOD products are innovatively engineered to withstand all four seasons without splintering, rotting, cracking, or chipping.
Industry-Leading Warranty
We understand that relaxation is about having peace of mind. That's why POLYWOOD outdoor furniture is built to last and backed by a 20-year warranty. Have any questions? Our Customer Experience Team is always here to help.
Don't sweat it. Your new furniture will come together beautifully and in minutes using everyday tools. From streamlined packaging and instructions to super-secure hardware, everything's been designed for stress-free assembly.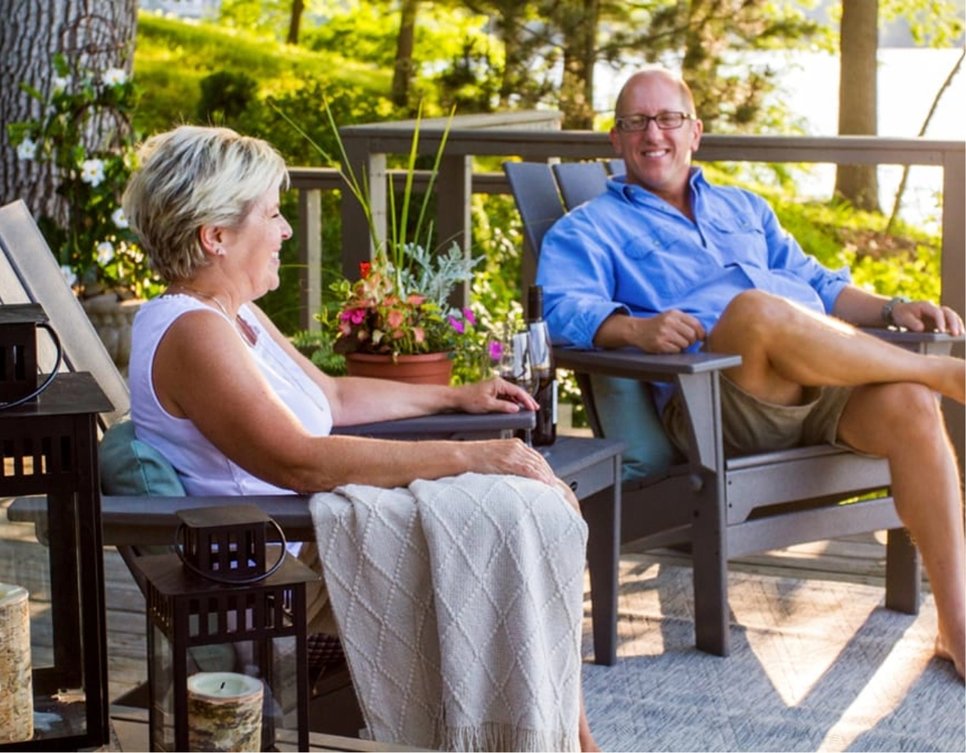 We're here to help create comfortable, livable outdoor spaces that can be enjoyed year-round. You don't have to worry about rain, snowy winters, salt spray, spilled wine, or barbecue sauce stains with our patio furniture: Everything has been designed for minimal maintenance and worry-free entertaining.
Genuine POLYWOOD lumber is made from reusable and infinitely recyclable high-density polyethylene plastics. (Learn about what makes our high-quality poly lumber the best here.) We also offer free shipping on every purchase.
The Complete Guide to Planning Your Outdoor Space
Our free guide is packed with exclusive tips from design pros, easy-to-use planning tools, and more inspiration to help you make your dream space come true.
GET THE GUIDE