POLYWOOD® Modern Adirondack Chairs
Browse our wide selection of modern Adirondack chairs to find a seating option that brings style and sophistication to any outdoor setting.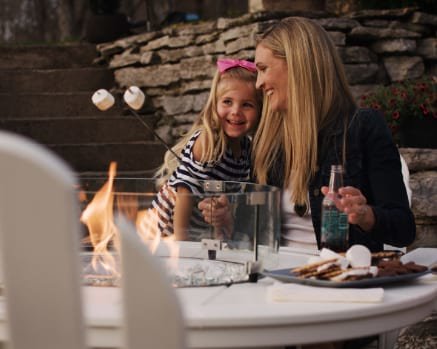 Many of our customers love POLYWOOD modern Adirondacks because they're the perfect combination of sleek, minimalist design and comfort-focused features. Add a group of these outdoor chairs to your patio so your family can appreciate their fashion and function in all four seasons.
Choosing our modern seating for your home means choosing to do your part in reducing plastic pollution. We build all our Adirondacks with high-density polyethylene (HDPE) lumber made from sustainable materials, including landfill-bound and ocean-bound plastics. Turning discarded plastic into durable outdoor furniture is a worthwhile endeavor that's keeping our planet beautiful in so many ways.
"I purchased these Adirondack chairs with my husband in mind… I wanted an Adirondack that fits a tall person, plus gives room for movement and a computer, plus drinks and snacks. This chair sets the bar for other makers of Adirondack chairs. Easy to put together, color solid throughout, screws rustproof, American made from all the plastics we continue to use regardless of the planet, and seriously well made and thought out. I will be purchasing more from POLYWOOD in the near future."

Let your stylish side show by selecting modern seating in colors that perfectly coordinate with your outdoor decor. Stage a relaxing sundeck scene with a set in calming Slate Grey, or make a bold statement on your deck with a pair of Black modern lounge chairs.
Modern Adirondack Features

Rain, wind, and sleet shouldn't get in the way of enjoying your outdoor furniture. Unlike wood, POLYWOOD products are innovatively engineered to withstand all four seasons without splintering, rotting, cracking, or chipping.
Easy does it. Our patio furniture will always look as good as new with very little effort. It doesn't need to be brought inside during inclement weather and cleans quickly and easily with soapy water and a soft-bristle brush.
Industry-Leading Warranty
We understand that relaxation is about having peace of mind. That's why POLYWOOD outdoor furniture is built to last and backed by a 20-year warranty. Have any questions? Our Customer Experience Team is always here to help.
Are Adirondack Chairs Right for Me?
These loungers often have contoured seats and backs for better support. However, they also sit low to the ground, so those with back or leg problems may have issues bending down that far.
When choosing your furniture, select the best material for you, such as aluminum, HDPE, etc. Then, settle on the styles, colors, and features you prefer — clean lines, angular frames, neutral tones, waterfall fronts, and the list goes on. From here, pick the sizes you need (go for multiple seating sizes to accommodate the height and weight of friends and family). Finally, think about any accessories you might like, such as outdoor cushions and coordinating ottomans.
Explore our online buying guide for a more detailed look into picking the perfect Adirondacks for your family.
What's the Difference Between Modern, Transitional, and Classic Styles?
At POLYWOOD, we categorize our furniture into three distinct styles: Modern, Transitional, and Classic. What sets one apart from the others? Let's look at the different characteristics each style has to offer.
Modern Adirondacks offer sleek silhouettes and clean lines — excellent choices if your tastes lean toward minimalism. Transitional lounge chairs feature versatile looks that effortlessly balance straight lines and gentle contours. Finally, our classic outdoor seating evokes a timeless style that perfectly blends traditional elegance with subtle details.

Folding Adirondack Chairs
Kick back in any outdoor space with POLYWOOD's comfortable and convenient folding chairs. Style a group of these foldable seats in your backyard, or load them in your car and take them with you to the beach for shoreside relaxation.
Adirondack Rocking Chairs
Create a serene front porch scene with a pair of Adirondack rocking chairs. This type of rocker is the clever combination of an Adirondack seat with the curved runners of a rocking chair, offering a unique relaxation experience POLYWOOD customers love.
Experiences are better when shared, so place an Adirondack set on your balcony or patio and take a moment to relish the comfort and view with a friend. If you have a larger outdoor space, gather a few lounge chair sets together so you can offer relaxation to a crowd.
The Complete Guide to Planning Your Outdoor Space
Download our free guide that's packed with exclusive tips from design pros, easy-to-use planning tools, and more inspiration to help you make your dream space come true.
Get Your Free Guide