Classic Adirondack Chairs

Thanks to our Color-Stay Technology, UV inhibitors and vivid pigments are fully integrated into the lumber to keep the hues pristine, even after decades of sun, rain, and use. The result is saturated colors that are continuous throughout and won't fade. Lighter hues will stay brilliantly bright, and darker tones will remain rich without the need to sand, paint, or restain.
"I chose this chair … for a wooded corner of our property. The red color pops against the shade and trees. Makes me happy to see it or sit in it."
Classic Adirondack Chair, August 2022
Adirondack Comparison Guide

Find the Adirondack that feels perfectly made for you.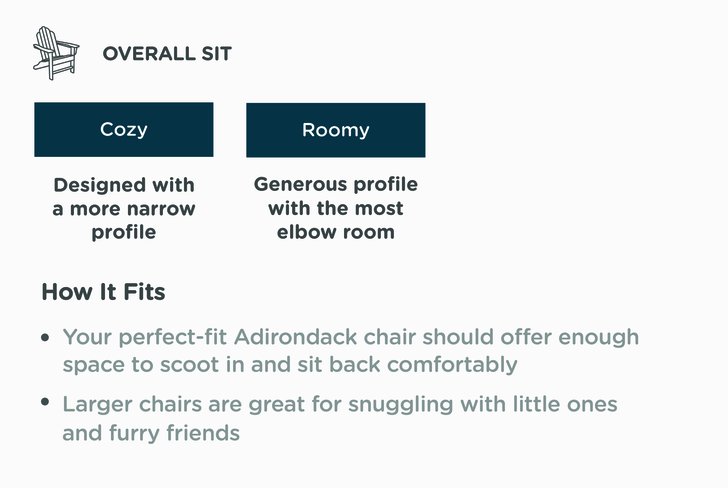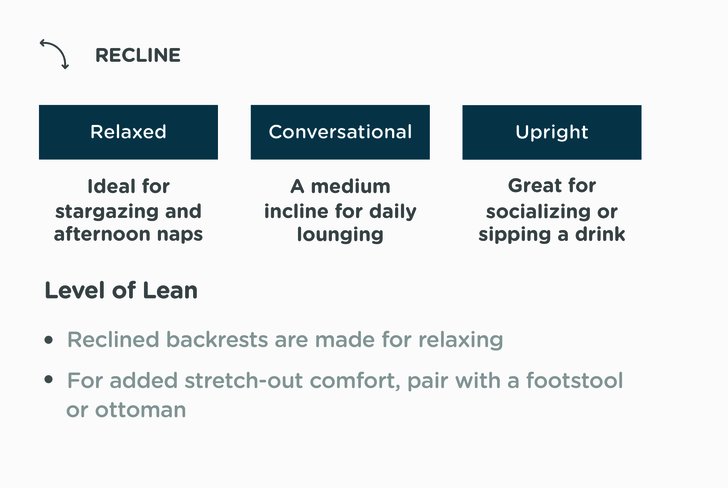 Classic Adirondack Features

Rain, wind, and sleet shouldn't get in the way of enjoying your outdoor furniture. Unlike wood, POLYWOOD products are innovatively engineered to withstand all four seasons without splintering, rotting, cracking, or chipping.
From hot summer sun and rainstorms to messy spills and stains, our heavy-duty lumber can handle it all. POLYWOOD all-weather outdoor furniture can be left out year-round, no covers required, for less work and more free time.
We're in the business of R&R, and our products are carefully considered to create a linger-worthy experience. From seating that reclines at the perfect pitch to pillowy-soft cushions, everything is done with comfort in mind.
Complement Your Classic Adirondack

Extend comfort even further with a coordinating ottoman.
Keep your morning matcha or afternoon aperitif on hand.
Step outside and enjoy some sunshine together.

We're on a mission to do outdoor furniture better. Crafted using reusable and recyclable genuine POLYWOOD lumber, our products help minimize environmental impact. Back in 1990, we were the first to make weather-resistant Adirondack chairs using this high-density polyethylene plastic. Today, we continue to push the boundaries of sustainability, quality, and comfort, exploring new ways to make products that feel as good as they look.
Designed for life outside, all POLYWOOD furniture is low-maintenance, easy to clean, and fade-resistant. Everything holds up beautifully in a range of climates and weather conditions, including snowy winters, hot sun, salt spray, and heavy winds. For added peace of mind, our built-to-last styles are backed by a 20-year warranty.

What is the difference between classic and traditional Adirondack chairs?
In reference to the style, there's no real difference between classic and traditional Adirondacks. Both can be used to describe the now-iconic lawn chair that has a slanted seat, extra-wide armrests, and back slats. While the chair's design has been reimagined many times, the classic style we know and love today was patented by Irving Wolpin in 1938.
Why does white POLYWOOD cost more?
White POLYWOOD lumber is more expensive because the materials needed for production cost more. We can only use clear plastics to achieve our bright white color, which are significantly more expensive to source than the colored plastics we use for our darker shades.
Which came first, the Adirondack or Muskoka chair?
The Adirondack chair is the inspiration behind the Muskoka chair and therefore came first. The original Adirondack was handcrafted in 1903 by Thomas Lee, and while this style was then known as the Westport chair, it took on a new name due to its popularity throughout the Adirondack Mountains. The chair eventually made its way north to Canada, went through a few small design changes, and was renamed as a nod to Muskoka (a dreamy destination outside of Ontario).
Are Adirondack chairs supposed to be on a hill?
While you certainly don't have to perch your Adirondack on a hill, it was actually intended for just that. Thomas Lee's original design featured a sloped seat and backrest that could accommodate the region's uneven terrain and achieve a sturdy, balanced sit in any backyard.

Looking for more information about Adirondack sizes, shapes, and styles? This guide takes you through the steps to find the chair that fits your outdoor space and lifestyle best.
GET IT NOW