Porch Swings
The best porch swings can take an average outdoor space and transform it into a dreamy oasis, one where you can relax with a good book, your morning cup of coffee, or a cocktail at sunset. We offer several types of porch swings to shop from, so we hope you'll sit and sway a while.

Porch Swings
The best porch swings can take an average outdoor space and transform it into a dreamy oasis, one where you can relax with a good book, your morning cup of coffee, or a cocktail at sunset. We offer several types of porch swings to shop from, so we hope you'll sit and sway a while.

All outdoor spaces are different, so we made sure to offer our patio swings in a variety of colors to suit your unique style. We blend pigments, UV inhibitors, and other protectants with high-density polyethylene (HDPE) plastics, then transform the mixture into genuine POLYWOOD lumber. The result is saturated color that is continuous throughout. Lighter hues will stay brilliantly bright, and darker tones will remain vivid and bold for years to come without the need to sand, paint, or restain.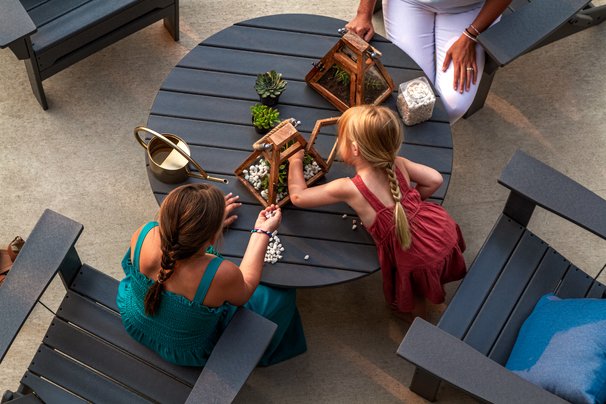 Since 1990, we've been on a mission to make outdoor furniture better. Today, that looks like innovative engineering that focuses on sustainable materials and stunning designs. At the end of the day, we work to create outdoor spaces that bring people together season after season (after season).
From hot summer sun and thunderstorms to wind and snow, POLYWOOD is ready for whatever Mother Nature has in store. Unlike traditional wood or disposable resin designs, POLYWOOD furniture will never need to be sanded, painted, stained, or otherwise modified. (And did we mention we always offer free shipping?)
"This Adirondack porch swing for my new "Shed Shed" is the third set of POLYWOOD furniture I have purchased and assembled by myself. With the cushion I ordered at the same time, it looks great and is very comfortable. Always pleased!"
Vineyard Adirondack 48" Swing, purchased 6/22/21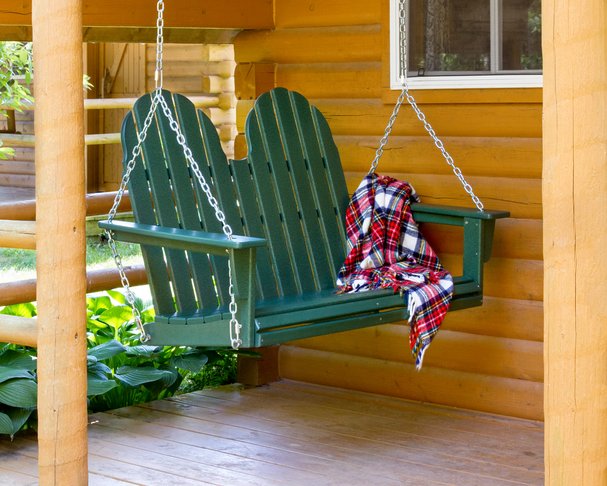 Summer thunderstorms, wintry blizzards, heavy winds, and other harsh weather conditions won't damage our four-season, heavy-duty porch swings. They can handle everything because, well, we designed them that way.
Our high-quality furniture is crafted from sustainable materials, including infinitely recyclable HDPE plastics. When you outfit your porch or back patio in POLYWOOD, you're doing something good for yourself and the planet.
We understand that outdoor furniture is an investment, and we want you to feel secure about your purchase. POLYWOOD furniture is built with the promise of lasting durability and backed by an industry-leading 20-year warranty.
A Quick Note on Installation
The hardware for porch swings should be hung from ceiling beams or structural joists to ensure stability and safety. If your porch or patio's ceiling lacks joists or you'd rather not pull out your power drill, you may want to opt for another type of motion seating. Rocking chairs or gliders offer a similar swaying rhythm but sit on solid ground.
If you do have the right architectural features and want the undeniable joy a porch swing provides, there are a few things to consider. Depending on your preferences, choose a place that gets the right amount of sun or shade. Then, do your research about correct installation methods—we recommend professional installation.


Are porch swings comfortable?
Like most outdoor seating, your porch swing should be comfortable enough to sit on for hours on end. POLYWOOD swings are designed with a range of comfort-centric features like waterfall fronts, supportive armrests, and optional cushions to choose from.
How much space should be in front of and behind a swing so it won't bump into anything?
We recommend at least 3 feet in front of and behind your patio swing, as well as 12 inches or more on either side, so you don't risk bumping into walls, railings, tables, or others.
How far apart should we hang chains?
We recommend hanging swing chains from the ceiling 4-6 inches wider than the swing's length (from armrest to armrest). For more helpful information about how to hang your swing, check out this article from the POLYWOOD Help Center.
What is the weight limit for POLYWOOD's outdoor swinging chairs?
Ultimately, the weight capacity will depend on the type of porch swing. There is a 250- to 400-pound weight limit per seat on our outdoor swings. So, a two-person swing with a seat weight limit of 300 pounds can hold up to 600 pounds.
How do you clean POLYWOOD's patio swings?
Good news—you just need soapy water and a soft-bristle brush to clean your patio swing. Gently scrub the surfaces, rinse everything off with clean water, and then let air-dry. It really is as easy as 1-2-3.
Do patio swings get hot when exposed to direct sunlight?
Our lighter lumber colors don't absorb as much heat as our darker lumber colors do when exposed to direct sunlight. Generally speaking, if the weather is comfortable enough for you to be outside for hours without getting overheated, then your swing should be comfortable to sit on too.
How do I stop a porch swing from squeaking?
To stop a porch swing from squeaking, you should first confirm that all hardware is aptly tightened. If it is, apply spray lubricant to all bolts and screws. Hold the lubricant about 6 inches away and spray each piece of hardware twice. To work the lubricant in, move the swing back and forth a few times.

More Outdoor Accent Tables & Coordinating Furniture

Room for one more? Ideal for any kind of alfresco entertaining, there are endless ways to enjoy our wide variety of outdoor benches.
Sit and sway all of your worries away with our outdoor gliders, where the ease of a rocking chair meets the gentle back-and-forth motion of a porch swing.
The Complete Guide to Buying a Porch Swing
If you're in the market for the perfect porch swing but not sure where to start, our comprehensive buying guide is here to help.
Read More