What Is POLYWOOD® Made Of?
Genuine POLYWOOD® lumber is made from a proprietary blend of High-Density Polyethylene (HPDE) plastics, including recycled milk jugs and detergent bottles. Since it's made from HPDE, POLYWOOD lumber does not contain wood or natural fibers, which makes it the premier low-maintenance natural wood alternative in outdoor furniture. Its all-weather endurance, improved aesthetics, and exceptional durability are what sets it apart from other brands marketing their materials as POLYWOOD.
On this page, we'll answer some commonly asked questions about our POLYWOOD lumber. Click to jump straight to an answer:
What Is HDPE Lumber?
High-Density Polyethylene (HPDE) is one of the most widely used forms of plastic because it's lightweight, strong, and weather resistant. You probably use products that contain HDPE on a daily basis. It's most commonly used for personal care products, like shampoo containers, and for food and beverage storage, like milk jugs.
We use HDPE because it's versatile and extremely durable —plastic is an ideal material for outdoor furniture because it's impervious to moisture, won't chip, peel, or rot despite years of use or inclement weather. The diagram below shows the advantages of using HDPE for your outdoor furniture.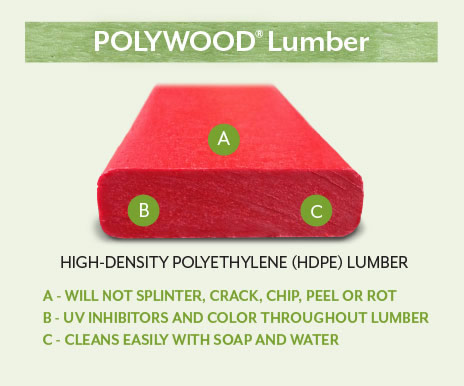 What Sets POLYWOOD Apart From Other Materials?
Customers often ask how our materials compare to real wood and other wood-alternatives like resin. Unlike furniture made from these materials, POLYWOOD outdoor furniture is more durable and will continue to look great despite years of use and exposure to the elements. While natural wood furniture can require sanding and hours spent on upkeep and maintenance, genuine POLYWOOD lumber won't chip or rot and is easy to clean using materials you can find around the house; warm water, dish soap, and a soft-bristle brush. Learn more about how easy POLYWOOD furniture is to clean.
Here are some additional benefits of POLYWOOD lumber:
Built to withstand harsh weather conditions like hot sun, snowy winters, and strong coastal winds
Most of our furniture products are backed by a 20-year residential warranty
Requires no painting, staining, or waterproofing
Cleans easily and is not prone to splinter, crack, chip, peel, or rot
UV protectant and color continuously throughout the HDPE material
Marine-grade quality stainless steel hardware
Is POLYWOOD Plastic?
Yes, but POLYWOOD is not the run-of-the-mill plastic you will find in low-quality, inexpensive furniture. Our lumber is made from a proprietary blend of thermoformed plastics including recycled milk jugs and detergent bottles. Thanks to the durable nature of the material and our UV-inhibited pigment system, POLYWOOD furniture is heavy duty, long lasting and weather resistant. Keep reading for a more technical description of how genuine POLYWOOD is made.
More On How Our POLYWOOD Lumber Is Made
POLYWOOD® lumber is made from a proprietary blend of thermoformed plastics (including post-consumer bottle waste, such as milk and detergent bottles or other post-industrial material), UV-inhibited pigment systems, foaming compounds, and selected process additives.
Once POLYWOOD receives the raw materials — recycled milk jugs, for instance — they are cleaned on-site by a decontamination process to a high purity level, which removes contaminants such as food residue, paper, and adhesives. Once clean, it's then shredded, sorted, and compounded into a rigid board stock material resulting in an eco-friendly and finished product ideally suited for outdoor furnishings.
Genuine POLYWOOD lumber has exceptional resistance to corrosive substances such as oil, salt spray, and other environmental stresses. Products made with POLYWOOD lumber have excellent weathering resistance. Our lumber requires no waterproofing, painting, staining or similar maintenance when used in outdoor applications.
How POLYWOOD Helps The Environment
When you buy POLYWOOD furniture you're not just making a smart investment, you're also doing your part to help the planet. We recycle an average of 30,000 milk jugs an hour and 400,000 milk jugs per day. We take disposable plastic, which is extremely slow to degrade and would otherwise end up in a landfill, and transform it into beautiful outdoor furniture.
Among our other eco-friendly efforts, 99% of our factory waste is recycled back into manufacturing. Less waste in the landfill = a happy earth. Learn more about our recycling and manufacturing process.
When you buy POLYWOOD furniture you're not only saving the environment, you're also saving your time and your sanity. Proud owners of POLYWOOD furniture will spend less time maintaining their furniture and more time relaxing. When it's time for a cleaning, a bucket of soap and water with a soft bristle brush will do the trick.
Shop Our Genuine POLYWOOD Furniture
Whether you're looking for some colorful Adirondack chairs to add to your backyard sanctuary or a bench or glider to add poolside, buy with the confidence that you're getting a high-quality product that will last for decades. Trust thousands of satisfied POLYWOOD customers and choose the perfect piece to add to your home. Don't forget to sign up for our newsletter to be the first to find out about new products, giveaways, and exclusive content.
If you still have questions about our products, peruse our FAQ page to learn everything you need to know and more.