Outdoor Swivel Chairs
Designed with comfortable seats and smooth motion, our all-weather swivel chairs promise relaxation at every turn.
Designed with comfortable seats and smooth motion, our all-weather swivel chairs promise relaxation at every turn.

Even after years of sun, rain, and use, our fade-resistant lumber will look as good as new. Vivid pigments run continuously throughout the material, while UV inhibitors and stabilizers keep the hues pristine without the need to sand, paint, or stain.

"I love my POLYWOOD swivel chair! The cushions are great quality and so comfortable. Perfect piece for the corner of my deck."
Complement Your Swivel Chairs

Sewn in your choice of performance fabric, our cushions add comfort and color to outdoor dining chairs.
With flickering flames and space for s'mores, our fire pit tables bring the ultimate cozy factor to your backyard.
Pair an accent table with our lounge furniture to create a functional outdoor space that makes everyone feel at home.
Lounge like you mean it, season after season, with an outdoor sofa that invites lingering and endures the elements.
Outdoor Swivel Chair Features

Rain, wind, and sleet shouldn't get in the way of enjoying your outdoor furniture. Unlike wood, POLYWOOD products are innovatively engineered to withstand all four seasons without splintering, rotting, cracking, or chipping.
From hot summer sun and rainstorms to messy spills and stains, our heavy-duty lumber can handle it all. POLYWOOD all-weather outdoor furniture can be left out year-round, no covers required, for less work and more free time.
We're in the business of R&R, and our products are carefully considered to create a linger-worthy experience. From seating that reclines at the perfect pitch to pillowy-soft cushions, everything is done with comfort in mind.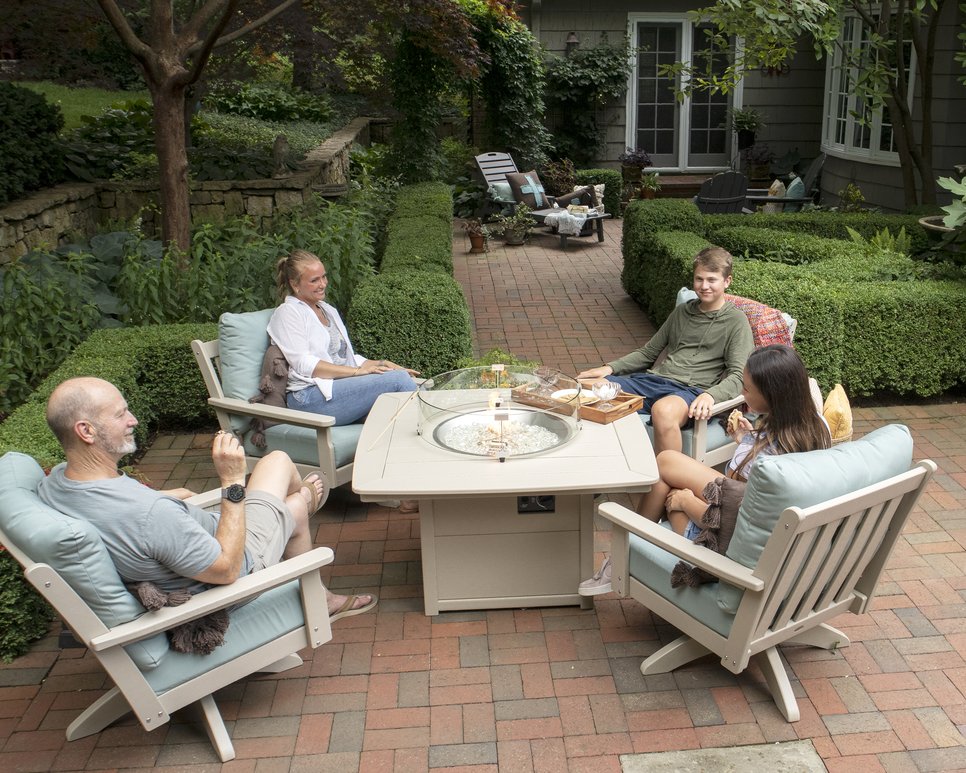 Designed for life outside, our lounge furniture requires minimal maintenance. It doesn't need to be brought inside during inclement weather and cleans easily with mild soap, water, and a soft-bristle brush. Every collection is backed by a 20-year warranty for added peace of mind. Plus, we always offer free shipping.
Genuine POLYWOOD lumber is crafted with reusable high-density polyethylene plastic. Back in 1990, we were the first to create Adirondack chairs with this durable and infinitely recyclable material. And today, we're still pushing the bounds of sustainability, quality, and comfort, exploring new ways to design products that feel as good as they look.

A swivel chair features a seat that oscillates from side to side or spins a full 360 degrees without repositioning the chair's base or feet.
Are swivel chairs comfortable?
Swivel chairs are popular thanks to their comfort and versatility, letting you turn between conversations or find a new viewpoint without getting up.
Does a swivel chair rock?
Some, but not all, swivel chairs on the market feature a rocking mechanism for added range of motion.