Outdoor Dining Tables
Eat, drink, and be merry alfresco with our every-occasion outdoor dining tables. We're serving up durable, sustainable, and stylish designs that are made for morning rituals and leisurely meals in good company.

Outdoor Dining Tables
Eat, drink, and be merry alfresco with our every-occasion outdoor dining tables. We're serving up durable, sustainable, and stylish designs that are made for morning rituals and leisurely meals in good company.


We offer a wide range of fade-resistant colors that naturally flow with your style and existing outdoor pieces. Vivid pigments are injected into the material early in production, meaning that the hues are continuous throughout the lumber. Our innovative Color-Stay Technology keeps the colors pristine, even after years of sun, rain, and accidental spills.

Need more legroom?
We have an upgrade for that.
PEDESTAL LEGS
Original design with classic style and timeless appeal.
TRESTLE LEGS
Streamlined style with generous legroom for all seats.


How do you set an outdoor dining table?
A patio table can be dressed up or down depending on your style and the occasion itself. For worry-free entertaining, layer a machine-washable tablecloth with melamine dishes, durable silverware, and acrylic glasses for beverages. A small centerpiece goes a long way for adding personality and dimension, but you'll want to allow enough room for table settings and ensure that guests can see each other.
Do I need a rug for an outdoor dining table?
Easy-care outdoor rugs are ideal because they pull double duty. First and foremost, they protect wood, stone, brick, and tiles from scratches and scuffs that may be caused by an outdoor dining table (not to mention spills and stains from food or drinks). From a style perspective, outdoor rugs create a well-appointed, unified look.
How big should a rug be for an outdoor dining table?
The general rule is to to choose an outdoor rug that extends about 2 feet from all sides of the table, enough so that all four legs of your outdoor dining chairs or bar stools are positioned on the rug. Space permitting, it's a good idea to allow 1–2 feet of walking space between the rug's edges and the perimeter of your outdoor area.

"This table is on our screened-in porch, and it's perfect. It's kid-friendly, and it's somehow modern yet traditional in all the right ways. Everything was smooth, from ordering to the faster-than-expected delivery."
EDGE 40" x 78" Dining Table, January 2022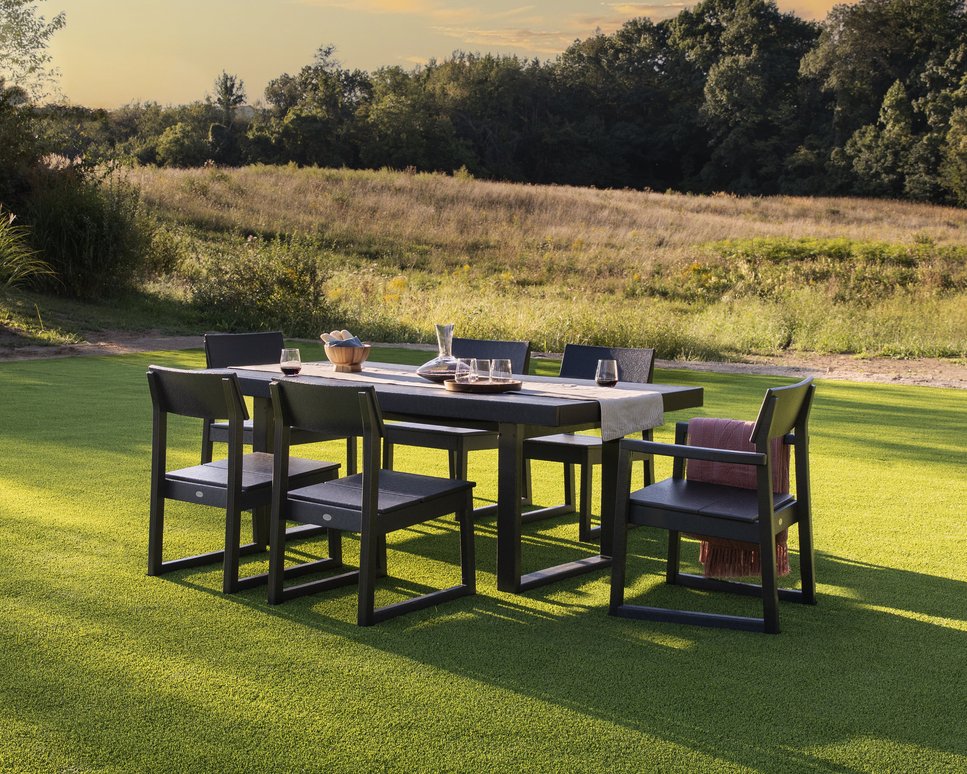 To find your perfect fit, the basic factors to take into account are the average number of people you entertain and your usable square footage. Our collections range from balcony-friendly bistro tables to 96" designs fit for a feast.
If you're a family of four or typically host intimate gatherings, a 37" or 44" table may be the way to go. Larger groups call for 72" tables, but 96" may offer the most flexibility—especially for those impromptu plus-ones. The ideal size will also depend on how big your space is. Expansive yards or decks should comfortably handle 72–96" designs, while bistro tables or 31" styles are just right for patios on the petite side.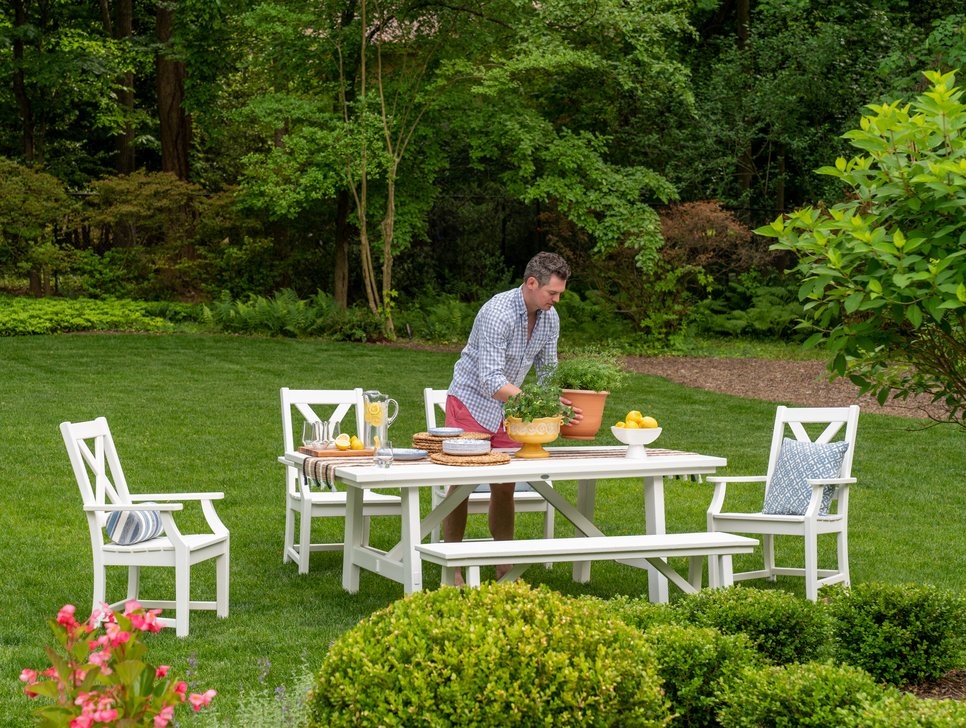 Spending time outside is one of life's greatest joys. Birds chirping at daybreak, kids laughing around the dinner table, peaceful nights under the stars—those are the moments we live for. That's why everything we do and design is intended to encourage more of them. 
With deep respect for the outdoors and the people who enjoy it, sustainability has always been our second nature. To protect our planet's finite natural resources, we build our patio dining tables from durable and reusable high-density polyethylene (HDPE) plastic. We believe doing better starts in our own backyard, and all of our furniture is proudly made in the USA.

Rain, wind, and sleet shouldn't get in the way of enjoying your outdoor furniture. Unlike wood, POLYWOOD products are innovatively engineered to withstand all four seasons without splintering, rotting, cracking, or chipping.
Easy does it. Our patio furniture will always look as good as new with very little effort. It doesn't need to be brought inside during inclement weather and cleans quickly and easily with soapy water and a soft-bristle brush.
Sustainability has always been our second nature. To protect and preserve our planet's natural resources, we make our durable patio furniture from reusable and infinitely recyclable HDPE plastic.

Go all out with our 9-piece outdoor dining sets, which accommodate the most table settings and family-style dining. These sets are substantial, so you'll want to ensure your outdoor space allows for it plus clearance for friends to comfortably move about. (Pro tip: measure it out with painter's tape!)
Take full advantage of patio season with our 7-piece outdoor dining sets. Suitable for a wide range of group sizes and occasions, these roomy dining sets are destined to be your new favorite place for brunch in the garden, intimate birthday parties, and late-night libations.
Party of four? Your table is ready. Our five-piece sets do outdoor entertaining flawlessly—whether you're hosting a double-date night or sipping tea on a cool autumnal morning. Available in classic, transitional, and modern aesthetics, these sets play well with most outdoor setups and styles.
Inspired by sidewalk cafés and cozy bistro-style eateries, our 3-piece sets are a breath of fresh air in small spaces. (We're looking at you, apartment balconies.) They're particularly great for those midday coffee breaks and post-work happy hours too. 

You've picked out the perfect table, and now it's time to choose your chairs. Create an all-season dining set your family will love gathering around with our coordinating dining chairs. From modern options to classic styles, you're sure to find seats that suit your alfresco aesthetic.
The Complete Guide to Buying an Outdoor Dining Set
We're dishing out expert advice for choosing the right table, the best seats, and other tips to maximize the comfort and potential of your outdoor dining area.
Read Our Dining Set Buying Guide