Designed at bar and counter heights, our tall Adirondack chairs give you a whole new outlook on outdoor living. Better sunset views, additional legroom, timeless style—what's not to love?
How tall are POLYWOOD tall Adirondacks?

Our tall Adirondacks can be divided into two categories: counter-height chairs and bar-height chairs. Our Adirondack counter seating slightly varies between 47 and 48.5 inches, while Adirondack bar seating can be anywhere from 51.5 to 55 inches.
If you're tall (or have a tall person in your family), these stool seating styles are likely more comfortable as the elongated design offers more leg space to stretch out between the ground and the seat. We've designed our tall Adirondacks with comfortable footrests so they work well for individuals of different heights.

"Unmatched quality construction. We can't believe how heavy (in a good way) the finished product becomes. Florida hurricane weather should do no harm to this [bar chair]. Looks great poolside. Ordered a dining set as well because we liked it so much. Kudos to the creator(s) of POLYWOOD."
Nautical Curveback Adirondack Bar Chair, July 2021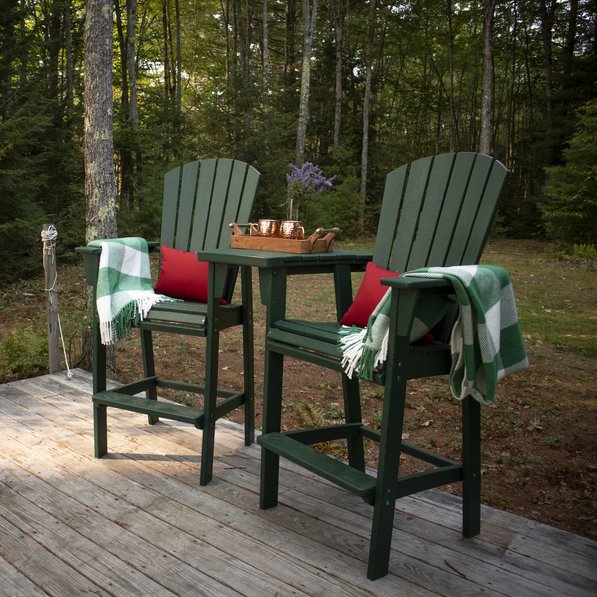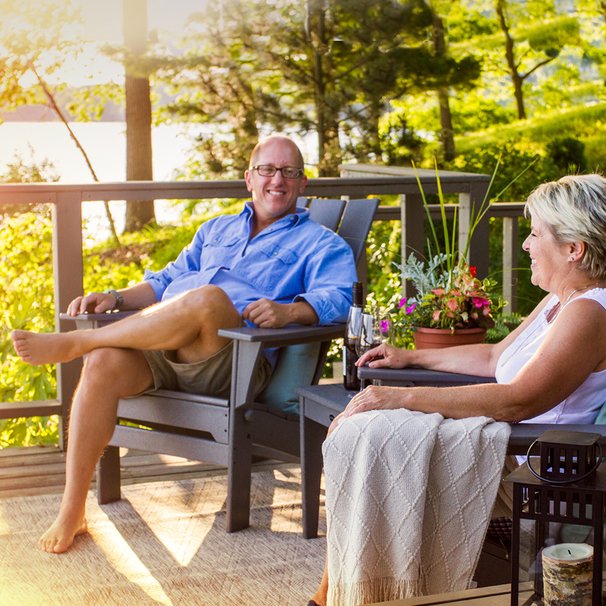 There's nothing quite like spending time outside. Breezy mornings on the patio, weeknight summer cookouts, a glass of wine at dusk—those simple, shared moments are often the most special. For that reason, everything we do and design is made to encourage more of them.
In a range of comfortable styles and different colors, our high-quality outdoor furniture feels right at home on any balcony, patio, deck, or porch. Our innovative lumber is made with sustainable materials, including landfill- and ocean-bound milk jugs and other high-density polyethylene (HDPE) plastics. POLYWOOD offers durability that natural wood and resin simply cannot—and you can feel good knowing you're helping in the fight against plastic pollution. In even more good news, we offer free shipping and delivery on every purchase.

Sustainability has always been our second nature. To protect and preserve natural resources for future generations, we make our durable patio furniture from sustainable materials, including landfill- and ocean-bound plastics.
Rain, wind, and snow shouldn't get in the way of enjoying your outdoor furniture. Unlike wood, POLYWOOD products are innovatively engineered to withstand all four seasons without splintering, rotting, cracking, or chipping.
Easy does it. Our patio furniture will always look as good as new with very little effort. It doesn't need to be brought inside during inclement weather and cleans quickly and easily with soapy water and a soft-bristle brush.
What is POLYWOOD made from?


Are all Adirondack chairs the same height?
Not all Adirondacks are the same height. In fact, Adirondack chair heights wildly vary. The original silhouette was designed with a low seat that was intended for hours of lounging. Today, new iterations are available for taller people, those with limited mobility, or anyone who simply prefers a higher seat.
How tall should Adirondack chairs be?
The best height of an Adirondack chair is going to be based on personal preferences. On average, standard chairs are between 34 and 42 inches tall. Look for a seat height that you can comfortably get up from and a high back for support.
What's the big deal about Adirondack chairs?
Adirondacks are the best chairs for outdoor lounging because, well, they were made that way. They often have comfort-centric features—including high backs, contoured seats, waterfall fronts, and roomy armrests—that allow for hours upon hours of relaxation. A well-designed Adirondack will be more comfortable than your standard patio or lawn chair.