Outdoor Adirondack Chairs
Have a seat outdoors in one of our Adirondack chairs, which combine style and comfort to create a modern twist on a timeless design.

Outdoor Adirondack Chairs
Have a seat outdoors in one of our Adirondack chairs, which combine style and comfort to create a modern twist on a timeless design.
Nautical

2 Adirondack Chairs + Rectangular Side Table

Vineyard

2 Adirondack Chairs + Round Side Table

Modern Adirondack

2 Adirondack Chairs + Square End Table
Adirondack Chair Fit Guide

Use these guides while shopping our selection to find the best Adirondack chairs for you and your family.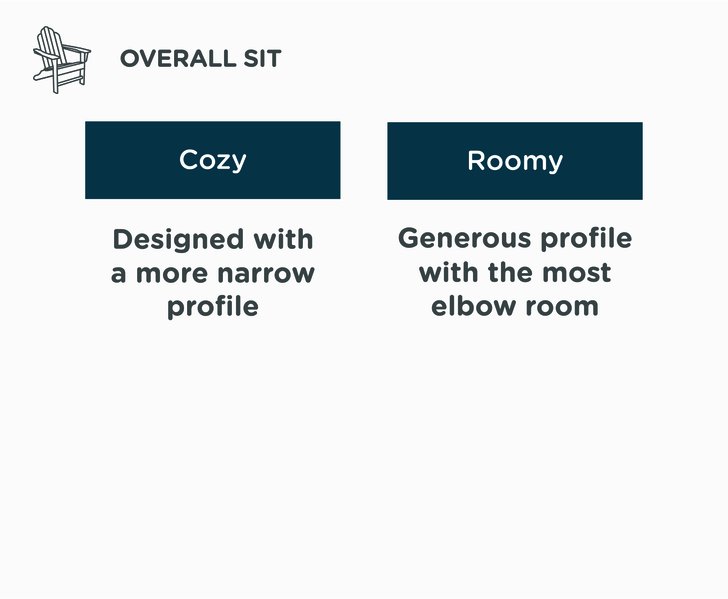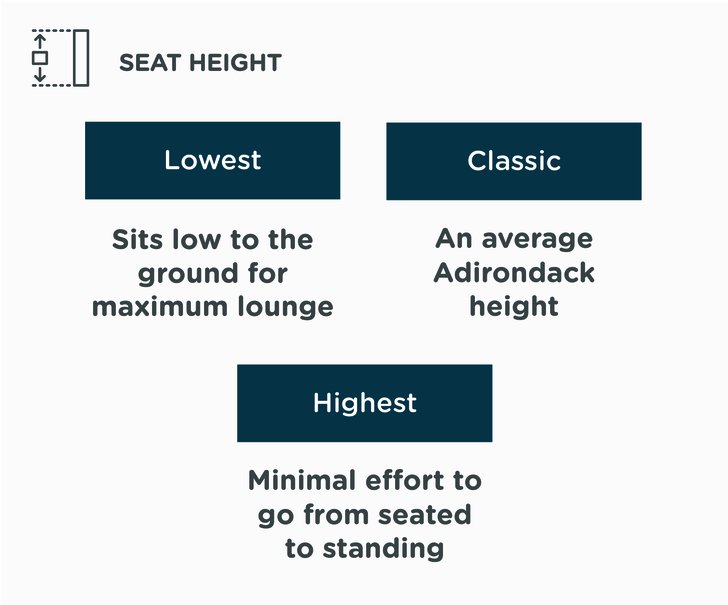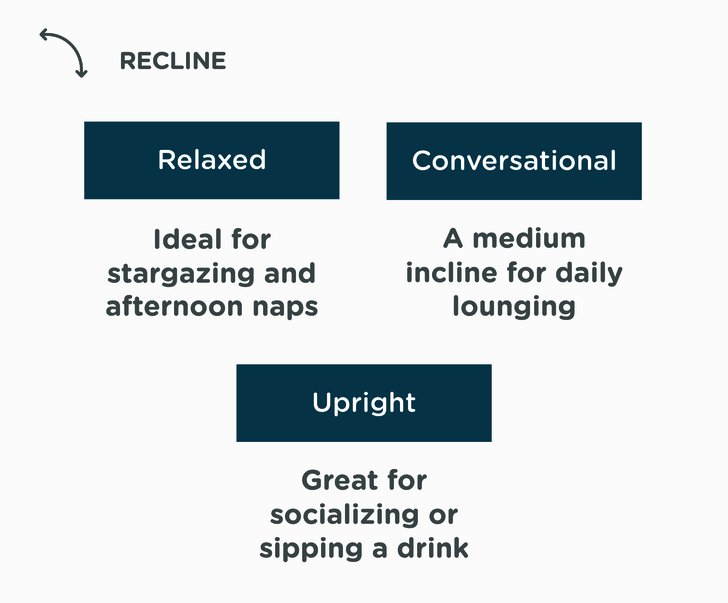 Even after years of sun, rain, and use, our fade-resistant lumber will look as good as new. Vivid pigments run continuously throughout the material while UV inhibitors and stabilizers keep the hues pristine without the need to sand, paint, or stain.


Perfect for sunshiny afternoons on the front porch or arranged around a cozy fire pit, our Adirondack rockers combine the best features of two iconic styles.
Get together and enjoy the great outdoors with our all-in-one sets. In a variety of colors, styles, and number of seats, they make it a breeze to design your dream outdoor space.
A design that puts the 'fun' in multifunctional, these collapsible chairs are a breeze to transport and store when not in use. To fold, simply remove two pins at the front of the chair.
From morning coffee with mountain views to date night on your apartment terrace, these bar- and counter-height Adirondacks instantly elevate outdoor entertaining.
A sleek take on a summertime staple, these patio chairs have a clean-lined silhouette with the same details you'd expect from Adirondacks, like wide armrests and contoured seats.
Kick back, relax, and enjoy some well-deserved R&R. A comfortable companion to our Adirondacks, these footrests prove that a little extra stretch goes a long way.
Complement Your Conversation Area

Designed for easy entertaining and worry-free ambiance, our fire pit tables create an irresistibly cozy space for brisk mornings by the lake or happy hour with friends.
Our crafted-to-last lounge furniture finds that balance of form and function, creating a place to gather and making outdoor living an everyday occasion.
Invite everyone over and savor every moment with our spill- and stain-resistant dining furniture, which serves style and comfort on the regular.

Are Adirondack chairs comfortable?
Adirondacks are one of the most comfortable outdoor chairs, thanks to their high backs, slanted seats, recline, and roomy armrests.
What is the weight capacity for POLYWOOD Adirondack chairs?
They are tested to ASTM standards and have been rated for commercial use at up to 400 pounds.
Are POLYWOOD Adirondack chairs stackable?
While our Adirondack chairs aren't stackable, our folding designs are a great space-saving solution, especially if you prefer to store your furniture during the off-season.
How much do POLYWOOD Adirondack chairs weigh?
Designed to be easily moved, but strong enough to withstand heavy winds, ours weigh between 30 and 50 pounds each.
Can POLYWOOD Adirondack chairs be left outside all winter long?
Yes, our durable Adirondack chairs can handle snow, sleet, and other winter weather conditions, making them a popular choice for colder climates.
What is the most popular Adirondack chair style?
Some of our top sellers include the Modern Adirondack Chair, Nautical Curveback Adirondack Chair, Vineyard Adirondack Chair, and Vineyard Curveback Adirondack Chair. Read our patio chair buying guides to find the perfect chair for your space.

Additional Adirondack Features

Rain, wind, and sleet shouldn't get in the way of enjoying your outdoor furniture. Unlike wood, POLYWOOD products are innovatively engineered to withstand all four seasons without splintering, rotting, cracking, or chipping.
Industry-Leading Warranty
We understand that relaxation is about having peace of mind. That's why POLYWOOD outdoor furniture is built to last and backed by a 20-year warranty. Have any questions? Our Customer Experience Team is always here to help.
Don't sweat it. Your new furniture will come together beautifully and in minutes using everyday tools. From streamlined packaging and instructions to super-secure hardware, everything's been designed for stress-free assembly.

Our original finish emulates the smooth texture and subtle sheen of satin-painted wood. Unlike real wood, it's easy to clean and will endure anything nature throws its way.
Inspired by wire-brush textures, our newest finish evokes the richness and character of matte-painted wood but doesn't require refinishing after exposure to the elements.

We're here to help create comfortable outdoor spaces for you to connect with nature and one another. POLYWOOD products are carefully considered and expertly engineered for enduring quality, endless comfort, and four-season use. We're all about effortless entertaining and worry-free relaxation: Inclement weather, UV rays, and barbecue sauce stains are no match for our heavy-duty lumber.

Made using recycled and reusable plastic, genuine POLYWOOD lumber helps keep our waterways clean and our greener pastures green for future generations. Our high-density polyethylene patio furniture is proudly made in the USA, and we offer free shipping on every purchase.

Why are they called Adirondacks?
Thomas Lee designed this chair's first prototype in 1903 to accommodate guests (and the rugged terrain) at his summer home in the Adirondack Mountains. His wooden chairs featured the same wide arms, straight backs, and slanted seats that we still see today. Lee's original invention was named the Westport chair, but as it gained popularity with locals and visitors in upstate New York, the better-known Adirondack name eventually caught on.
Adirondack Chair Buying Guide
Still can't decide on what type of Adirondack chair to buy? Check out our comprehensive guide to choosing the perfect outdoor seating for your patio.
Adirondack Chair Buying Guide

Shop Outdoor Lounge Furniture
Browse our full lounge furniture lineup and discover styles that bring both form and function home. From cozy deep seating to our iconic Adirondacks, rest and relaxation is just around the corner.
SHOP ALL LOUNGE FURNITURE