Folding Adirondack Chairs
On the lookout for an outdoor lounge chair that's both comfortable and convenient? Consider adding a folding Adirondack chair to your outdoor space. We offer a wide selection, so you're sure to find the perfect match for your porch, patio, or balcony.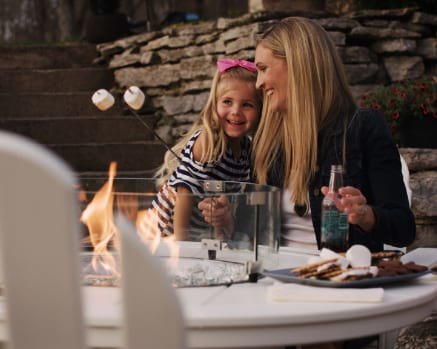 POLYWOOD folding Adirondack chairs are versatile outdoor lounge options busy families love. We designed them to be convenient seating you can effortlessly fold up and move whenever and wherever you wish in your outdoor area.
Our goal is to make outdoor living easy and enjoyable for you and eco-friendly for our planet, so we can ensure that the largest outdoor space of all stays healthy and clean. Any POLYWOOD Adirondack chair you choose is built with durable HDPE lumber, made from sustainable materials including landfill-bound and ocean-bound plastics. Every time you sit back and relax in your fold-up lounger, you can feel good knowing you are part of the solution to ending plastic pollution.
"They arrived early, and my husband put them together in one day. We're very pleased."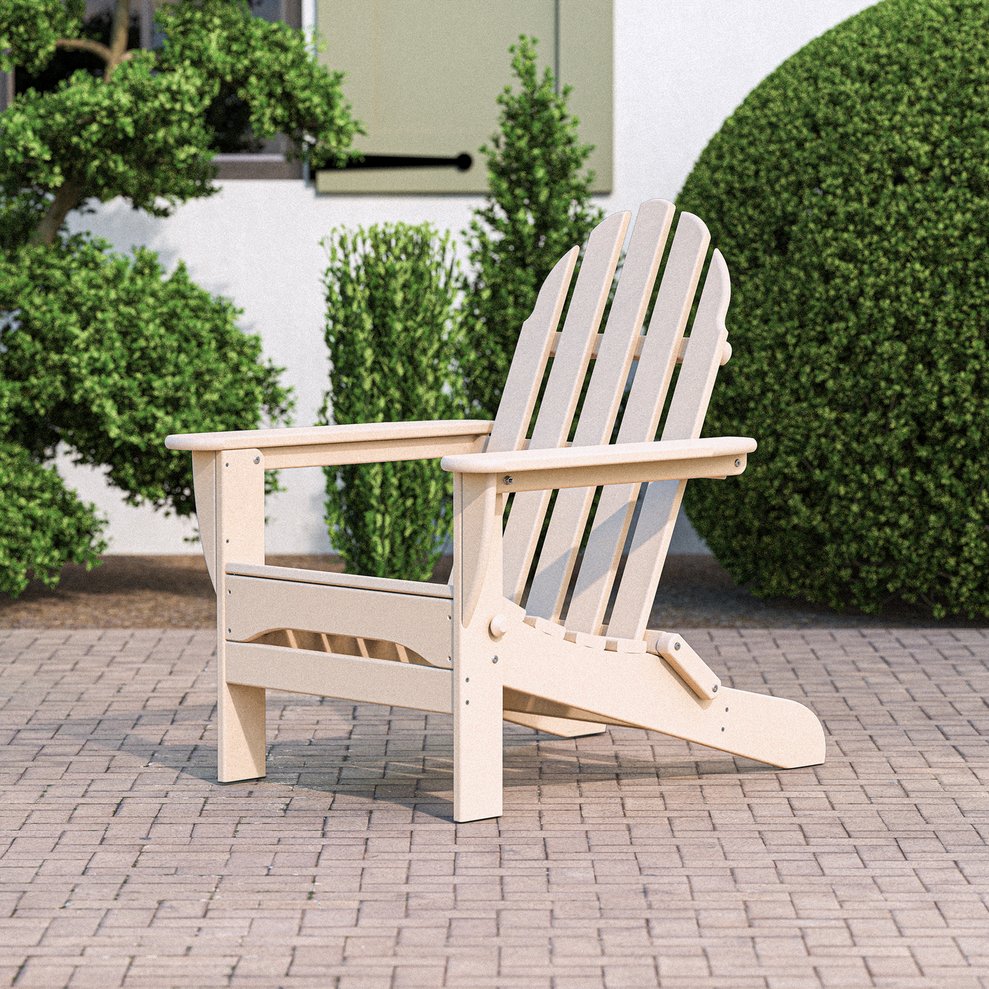 Folding Adirondack Chair Colors

Good things come in threes, and POLYWOOD foldable Adirondacks offer comfort, convenience, and color. Our loungers come in a rainbow of hues, giving you many opportunities to style your space and express your tastes. Brighten up your poolside with a trio of Lemon, Lime, and Tangerine fold-up Adirondacks. Or create a peaceful patio scene with a Slate Grey conversation set.
Folding Adirondack Features

Dust and heat of the desert, humidity and salt spray on the southern coasts, intense snowfall in the northern states — it doesn't matter where you live. Your Adirondack chair can handle a variety of climates and environmental factors. However, you can fold up your seat for easy storage if you want to keep it out of the weather.
Not only is your foldable lounger easy to maintain, but it also requires no assembly on your part, and you don't need to do any extra work to make it comfortable. All of our fold-up chairs ship fully assembled, and many models feature contoured seats and curved backrests that accentuate your relaxation experience.
Genuine POLYWOOD lumber is made from sustainable materials, including landfill-bound and ocean-bound plastics. Turning recycled plastic into beautiful outdoor furniture keeps the planet healthy and gives discarded plastic a second chance to become something beautiful and long-lasting.
Folding chairs have been around for thousands of years. The earliest known fold-up chairs were used by royalty in ancient Egypt, Rome, Minoa, and Greece around the 15th century B.C., before finding their way to Denmark during the Nordic Bronze Age. In the Middle Ages, faithful congregants saw foldable chairs as ideal seating in churches. And as churches became more widespread around Europe, so did folding chairs.
Many had a hand in inventing the modern folding chair we know today, starting with John Cram, who first patented an armless folding chair in 1855. Nathaniel Alexander came along in 1911 and patented an improved version that featured a bookrest. Philip E. G. Harrison then patented the first metal foldable lounger with a fabric seat and backrest in 1931. And in 1956, Fredric Arnold patented an aluminum fold-up chair with a simple design that could be easily mass-produced.

Are folding Adirondack chairs sturdy?
Yes, folding Adirondack chairs are sturdy. These loungers are designed to be used repeatedly outdoors for leisure and relaxation, so the materials needed to build Adirondacks must have strength and durability. When you're shopping for fold-up Adirondack chairs, look for products made from all-weather HDPE poly lumber and stainless steel hardware as both are low-maintenance, long-lasting materials that stand up to bad weather and continual use.
Are folding Adirondack chairs comfortable?
Yes, folding Adirondack chairs are comfortable. These outdoor chairs sit low to the ground with reclined seats and backs, letting you sink into them, lean back, and relax. Some fold-up Adirondacks offer additional features such as wide-set armrests, contoured seats, and curved backrests, which increase their comfort levels.

Folding Adirondack Chairs Fit Anywhere

Adirondack Chair Buying Guide
Find the perfect Adirondack chair for your space with the help of our detailed buying guide.
View Adirondack Buying Guide